What Life Is Like For Kids in the Worst School in Chicago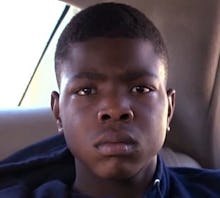 It opens with scenes of cop cars and flashing lights, blocked off crime scenes and dilapidated areas covered with graffiti. Through Lil Chris rapping "Lost My Mind" in the background, a newscaster announces, "Chicago is now the murder capital of this country."
Then the focus pans to the Moses Montefiore Academy, a school on Chicago's Near West Side. It is the city's only therapeutic school in the public school system, the only place for the city's most at-risk youth who have been kicked out of every other school.
Montefiore has about 100 kids, ages 10 to 16, and most of them have been diagnosed with behavioral or emotional disorders. The main issue is aggression and the kids are committed to the psych ward on a somewhat regular basis. Two full-time police officers are in the school at all times; to enter, you're searched and must pass through a metal detector. VICE News writes that the kids are "one mistake away from being locked up or committed to a mental hospital."
Last Chance High trailer. Credit: VICE
Early in the first episode, a young boy who looks about 10 years old gives the finger to the camera. "Get this fuckin' camera outta my motherfuckin' face, pussies."
Brothers Craig and Brent Renaud filmed over a four-month period and produced the eight-part series, Last Chance High, for VICE News. The school has "long been known as the place for kids who nobody else will take," Brent said in a phone interview. He added that it's said that the only way to get out of Montefiore is in handcuffs.
There is no voiceover, no words on the screen. The Renauds wanted the kids to tell the story, Brent said. And they do.
In one episode, a boy named Cortez says, "My lil' sister, she got beat to death. My brother was killed …" Cortez's father is locked up for murder.
One boy, called "Spanky," says that since his father has been out of prison, he's scared that if he gets into any trouble, his father will kill him. (Cortez. Image Credit: VICE)
"Most of [Chicago's] gun violence involves kids ages 12 to 18, both doing the shooting and getting killed," Brent said.
During the episodes, which take viewers into the classrooms and homes of the kids, Brent said, "You start to get a picture of what life is like in Chicago for these kids." He said he doesn't think that people quite understand the intensity of the violence. "Every one of these kids know intimately someone who was killed."
The school's former principal used to keep a wall of photos in her office of the students from the school who had been killed. "I remember there being around 15 photos," Brent said. 
The New York Times wrote a piece last January about Chicago's crime rate. In the article, a boy holds a sign that reads, "Don't shoot. I want to grow up." The Times wrote, "With the city's longtime gangs splintering into factions and increasing problems with retaliatory violence, homicides rose suddenly in the first three months of the year — running some 60% ahead of the year earlier."
Among young people in particular, the Internet plays a part in the violence. According to a Wired story about social media and gang wars, there are now about 70,000 gang members in the city, and they're divided into a "mind-boggling" 850 cliques.
"Young people in these areas are like young people everywhere, using technology to coordinate with their friends and chronicle their every move," Wired wrote. "But in neighborhoods where shootings are common, the use of online tools has turned hazardous, as gang violence is now openly advertised and instigated online."
Spanky and Coach Williams. Image Credit: VICE
There is no question that the kids in Last Chance High are disturbingly aggressive, a behavior they've probably learned from observing others around them. One surprising aspect of the series is the staff's patience. In algebra class, the teacher asks the students how to solve for "m." A boy points around the room, loudly declaring, "Fuck you, fuck you, fuck you, fuck you …"
Brent said that the teachers are doing "an extraordinary job under extraordinary circumstances."
Coach Williams plays a particularly touching role in the kids' lives. He mentors Spanky — who is bullied for his speech impediment — and even takes him to a DePaul basketball game. Williams says in one episode that he wakes up with nightmares, talking to the kids in his sleep. He's fighting for them, but there are staff members at Montefiore who feel less hopeful. One female teacher says, "They are already a statistic. Life is already determined for them. It's the saddest thing I've ever seen in my life." 
(Spanky. Image Credit: VICE)
***
Last Chance High: Episode 1; Episode 2; Episode 3; Episode 4; Episode 5. Episodes air on Thursdays on vicenews.com. 
READ: 39 People Were Shot in Chicago This Weekend, and the Media Barely Covered It