The 9 Young Rappers Bringing West Coast Hip-Hop Back to Life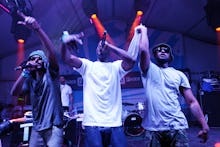 Since the Beach Boys in the 1960s, musicians have been trying to explain what exactly is going on with the West Coast. When songs about sunshine and convertibles weren't cutting it anymore, Dre, Pac and Snoop stepped up and captured the soul of the strange coast with their chronic-soaked beats, hazy spirituality and razor-sharp politics. But when the '90s ended, West Coast hip-hop faded from the public eye. Until now.
"Everybody serenade the new faith of Kendrick Lamar / This is King Kendrick Lamar," proclaimed Lamar on "Compton." His self-coronation might have felt premature at the time, but in 2014 it's hard to argue his claim: After a brilliant debut album, a world-shattering verse on "Control" and dozens of guest spots, Lamar has inherited the West Coast throne. Now, after years of relative silence, a brand new West Coast scene is emerging around him.
He's surrounded by a young generation of California talent determined to make the Golden State the center of the hip-hop world. Here are the nine rappers bringing California love back to hip-hop and redefining what it means to be a Californian in 2014.
1. ScHoolboy Q
One of Kendrick's main homies in his Black Hippy collective (a group of Cali rappers at the core of the new scene), ScHoolboy Q made a name for himself this year with his excellent chart-topping album Oxymoron.
A former gang member and drug dealer, ScHoolboy Q takes after East Coast lynchpin Jay-Z in many ways, but he also vividly depicts the specifics of life in South Central. He's the gangster to Lamar's good kid, but he has the same swagger, intensity and intelligence. Both rappers exemplify the activist streak Pac first brought to Cali rap.
2. YG
For a "ratchet" rapper whose first single was called "Toot It and Boot It," YG has done incredibly well for himself.
He's ridden the throbbing, club-ready, minimalist beats of DJ Mustard to the top of the charts, rave reviews from the New York Times and guest spots from Drake. He says that the West Coast classic Doggystyle by Snoop Dogg was a huge influence on his 2014 album My Krazy Life and flashes of that same doped-up brilliance shine through.
Still, let's hope that "My Nigga" isn't the only artifact of human civilization left a thousand years from now.
3. Earl Sweatshirt
It wasn't so long ago that the young Santa Monica-based Earl Sweatshirt was more rallying cry than rapper: "Free Earl" was chanted at every Odd Future concert in 2011 and even on Late Night with Jimmy Fallon, during the long period when Earl disappeared from the rap collective.
But since his return from Samoa two years ago, he's completely justified the hype. His last album, Doris, was met with universal acclaim and his dense, reference-filled verses are pretty much poetry. He perfectly captures the creepiness of growing up in L.A. Get ready for a long, storied career — the man isn't even 21 yet.
4. Dom Kennedy
A hero of the L.A. underground scene, Kennedy has been very vocal about his West Coast allegiance and influences: "I'm trying to do it like DJ Quik did it, or Ice Cube did it," he said in 2010.
His music is classic Cali, but his business sense is straight-up East Coast: He sailed into the Billboard charts without a record deal and manages his own label, The Other People's Money Company. He still may be a businessman (as opposed to a "business, man"), but expect Kennedy to make big moves in the coming years.
5. Nipsey Hussle
The versatile, upbeat Nipsey Hussle (great nickname) started his career drawing comparisons to Snoop Dogg, even appearing on the Doggfather's 2009 album Malice n Wonderland. But since then, he's forged his own path, founding his own record label, releasing a slew of acclaimed mixtapes and working together with fellow prodigy Dom Kennedy.
Look out for his highly anticipated second album, Victory Lap, this year.
6. Sage the Gemini
Although the center of Cali's rap scene may currently be L.A., Sage the Gemini is fronting another scene in the Bay Area, where the dance phenomenon yiking (like twerking with a partner) reins supreme.
Though he's fully responsible for the 'yike,' Sage thankfully makes way more than mere club music. Check out his clever, exuberant wordplay on debut album, Remember Me.
7. 100s
100s may come from the Bay Area as well, but you can bet he's not spending his time yiking. Amid all the ratchetry and new-age synth beats, the 21-year-old represents a throwback to a G-funk era, when silky, laid-back keyboard production reigned supreme. His beats sound like updated versions of those on The Chronic, his flow just as lazy and stylish.
8. Ab-Soul
Another member of the Black Hippy collective, Ab-Soul is perhaps the most hippie of them all — he's peaceful, rails against the government, raps over hazy beats and is 100% an oddball.
"Ain't nothing wrong with a righteous man," he tells us on "Terrorist Threats," and considering his prodigious talent, he has to be right.
9. Vince Staples
Staples is another member of the Odd Future extended family: You can find him throughout Earl Sweatshirt's Doris and countless other posse projects.
But while he often goes in for Odd Future's shock value, he's equal parts Pac-style social protest and A$AP Rocky-style melodies. It's this inventive combination that landed him a deal with Def Jam and a nomination for the XXL Freshman class of 2014.
To some extent, these guys are all freshmen. As they grow up, they're going to redefine the scene and what it means to be from Cali.