If You're Mad at Donald Sterling, You'll Love What the NBA Just Did to Him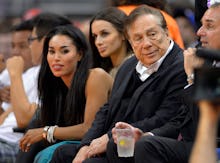 The news: In perhaps the harshest punishment he could've exacted, NBA Commissioner Adam Silver has banned LA Clippers owner Donald Sterling for life from any association with the Clippers or the National Basketball Association.
According to an NBA press release, Sterling is prohibited from attending NBA games or practices, being present at any Clippers office or facility, attending NBA Board of Governors meetings or participating "in any business or player personnel decisions involving the team." The ban also comes with a fine of $2.5 million, which will be donated to various "organizations dedicated to anti-discrimination and tolerance efforts."
Silver added that he would do "everything in [his] power to ensure" that the NBA Board of Governors votes to force Sterling to sell the Clippers. The 80-year-old has owned the team since 1981.
Image Credit: AP
Wow. This punishment comes after a four-day investigation in which the NBA found that the voices in a now-infamous tape recording — where a man is heard telling his girlfriend that he doesn't want her publicly "associating with black people" or "[bringing] them to [his] games" — belong to Donald Sterling and his girlfriend V. Stiviano.
When TMZ leaked the recording, the backlash from players, coaches, fans, pundits and everyone in between was forceful and exacting. NBA legend and LA Dodgers Co-owner Magic Johnson, who was mentioned by name in the Sterling tape, announced on Twitter that he would "never go to a Clippers game again as long as Donald Sterling is the owner."
General sentiment was that someone with such racist views has "no room" in a league where 76% of the players and 43% of the head coaches are black. Numerous corporate sponsors have since withdrawn their support from Sterling's organization, in addition to silent protests held by Clippers players and a few other playoff teams, including the Portland Trail Blazers and Houston Rockets.
Clippers Head Coach Doc Rivers has even stated that he will "never return" to work for the organization if Sterling remains its owner.
Image Credit: AP
What now? The major challenge now is dealing with the aftermath of this decision. Donald Sterling has been in hot water for racist comments and housing practices in the past, but the league has been either unable or unwilling to punish him. Silver's decision was punitive and unprecedented, but also a long time coming.
The NBA Board of Governors requires a three-fourths majority vote to oust Sterling as owner, at which point the process of selling the team could be relatively quick. If they do so, Sterling could fight them — but for the rest of his life he'd have to deal with a team, an organization, a league and a general public that wants him gone. At age 80, who wants to deal with that?
Still, it's important the ousting process goes through if the league, its players or its fans are to feel any sense of justice. Silver is answering to a wave of popular sentiment that could explode if not satiated. Despite being urged to do so by various outlets and on social media, so far neither fans nor players have been willing to completely boycott Clippers games. If Sterling remains owner however, that could quickly change.
And neither the Clippers, the league nor Sterling want that happening.