Here's How the Clippers Players Protested Their Owner's Racist Remarks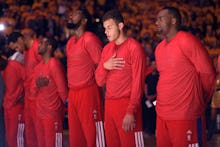 The news: Since Los Angeles Clippers owner Donald Sterling made waves with his racist remarks, the scandal has caught the attention of the entire country. Everyone from President Barack Obama to Snoop Dogg has weighed in on the controversy, with NBA players old and new coming together to protest Sterling's remarks.
But it's one thing for an outsider to criticize a racist, and a completely different thing for a professional sports team to stand up to their owner. And as difficult a gesture it may be, that's exactly what happened on Sunday at the Clippers' Game 4 with the Golden State Warriors.
Just as the game was about to start, Clippers players removed their shooting shirts and revealed their warm-up shirts — which had been turned inside out. They took the court without bearing a single hint of their team logo, and during the actual game, they wore matching black socks and black wristbands in solidarity.
Image Credit: Tumblr
Image Credit: Tumblr
It's a powerful statement for the Clippers players to show that they will not stand by their owner's bigotry. The silent protest helped to illustrate one of the very tenets of sportsmanship: coming together as a community in spite of differences.
"We're going to be one, everything we do, we do it together," said Clippers point guard Chris Paul. "Stay together, play ball — we worked hard to be where we are."
And they are not the only ones who feel this way. A couple of fans at the game decided to troll Sterling with these eye-catching signs:
The players' and fans' united gesture now puts pressure on the NBA to appropriately respond to Sterling's behavior. While the media firestorm may have been bad enough, now the actual people who play for the team — and buy the tickets — are standing up against Sterling. And that's not something that the Clippers or the NBA can afford to ignore.