One Small, Unexpected Neighborhood Has the Best Indie Music Scene in America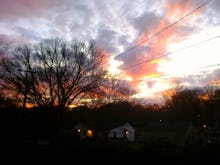 Downtown Nashville is along the Cumberland River, which makes it sound quaint and charming, but the sound of Sugarland covers and buzzing neon signs fill the air. It looks like the product of groupthink, like a place so singularly focused on country music that it would ride any indie artist out on a rail. Downtown Nashville is like Disneyland for country music, only instead of Mickey Mouse, there is only Luke Bryan, hips swivelling. 
Image Credit: Taste of Country
But across the river, two miles to the east, there's a paradise unknown to national audiences, a buzzing neighborhood with crazy talent dripping from the low-rent rafters. Across the river is East Nashville, the best place — statistically and stylistically — for indie music in America.
Image Credit: Lindsey Boise
East Nashville is everything Brooklyn wishes it was, only affordable. It has its fair share of local butchers (Porter Road Butcher), organic and gluten-free grocery stores (The Turnip Truck) and the snobby coffee shop to end all snobby coffee shops (Barista Parlor). But unlike Brooklyn, musicians can actually afford to be musicians there. And that means fans and musicians alike get the best indie music in the whole country.
That's because rent averages $650 a month and cost of living is 9.5% lower than the national U.S. average. Combined with a small population of roughly 25,000, the 37206 zip code of East Nashville houses an enormous percentage of the cities' musicians close enough together so they're always collaborating. Redbull Sound Select artist Boom Forest and indie darlings Foreign Fields share a house in the east called Castle Red Skull. Their situation isn't uncommon in Nashville — they have a big rickety red house filled with instruments and a rotating cast of musicians coming in from tour and going back out again. Everyone from the Avett Brothers to Mumford & Sons has passed through.
Groups like the insanely danceable Kopecky Family Band become local staples quickly in the music-focused crowd, and they're always playing somewhere nearby if you're a fan looking for a dance fix. In East Nashville, people are always going to see each other play. And during the day, they buy coffees and beers from one another at those same venues — venues like FooBar, The East Room and The 5 Spot.
But the area draws the best indie bands because it's ideal for bands looking to tour. Nashville native band The Apache Relay made huge waves across the country when they released their record, but the Ford brothers didn't have the money to tour. They got there eventually, though, by joining Mumford & Sons (the band's label has a Nashville presence) for a tour. Along the way, they were helped by the fact that eight major interstate systems connect to Nashville, which is within a 400-mile drive of some of the most densely populated areas in the country. And then there's the fact that Nashville gas prices currently average at $3.527 (compared to the national average of $3.658), because cars can't run on dreams alone.
Since 1970, studies prove that Nashville is the only city in the United States that has registered positive growth in the music industry. As a result, Nashville and Memphis are unique in that they have much broader (and more intense) music tastes than anywhere else in the country — perfect for all kinds of musicians and any kind of music lover. There's an audience for most anything you want to play. It's one of the few places where you can make a sustainable life as a musician with a real community.
So the myth of Nashville runs deeper than most people expect. It isn't all country — if you shift your focus to the east, it's all about the music.