This Kentucky Shop Window Sums Up What's Wrong With Conservative America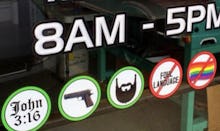 Herald Embroidery, a print shop in Kentucky, has made its stance on what — and who — is welcome in their store very clear. Guns are welcome. Gay people not so much.
The business recently posted five three-inch stickers to its storefront, depicting guns, beards and a Bible passage in green circles, with foul language and a rainbow flag crossed out in red circles. Talk about a picture being worth a thousand words.
Image Credit: Pink News
After news of the rather unique icons began to spread, the store replaced them with a "clarification." The new sign reads, "While we will serve all customers who treat our place of business with respect, we reserve the right to refuse to produce promotional products that promote ideas that are not in keeping with our consciences. This includes, but is not limited to content promoting homosexuality, freemasonry, the use of foul language, and imagery which promotes immodesty."
Image Credit: Pink News
Yes, you read that correctly: The shop owners don't want your blasphemy or homosexuality plastered on any t-shirts and banners made by them (The fact that this will apparently cause it to lose some customers of the not gay variety didn't seem to factor much into the thinking.). Guns, on the other hand, are fine. 
It's interesting to note Herald Embroidery's use of the word "conscience" in its policy, given that the number of death-by-gays incidents seems fairly low, especially when compared to the number of death-by-guns statistics. This week alone, a student was shot near his academy in Camden, N.J., a Texas teen brought three loaded guns and a list of demands to school and a teenager shot a 14-year-old girl in a fight over a boy. Just yesterday, a FedEx package handler shot six people and himself at a Georgia warehouse.
The storefront stickers represent the views of a local Kentucky business' bigoted owners, but should not be written off as an anomaly. Indeed, the fact that Herald Embroidery is perfectly within its rights to post such signage is part of a much wider problem. As of recent weeks, it's now legal for gun owners to walk unrestricted into Georgia bars, government buildings, schools and religious institutions. Meanwhile in Kentucky — where this print shop is located — its similarly legal use "religious beliefs" (including those that could undermine the civil rights of gays and lesbians) as a legal defense in court.
Go figure. In fact, similar anti-gay discrimation laws — all cloaked in the guise of religious freedom — have been popping up all over the country, from Arizona to Mississippi. While some politicians appear to have realized the folly of wading into this particular discrimation pond, their success elsewhere in the United States means more of these stickers could be coming soon to a storefront near you.