Botched Execution in Oklahoma Is the Nightmare That Death Penalty Activists Warn About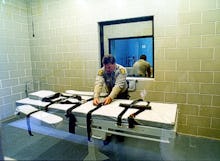 The news: A state-sponsored execution isn't supposed to be a pleasant experience.
But it's also prohibited from being "cruel and unusual punishment." The Oklahoma state penitentiary in McAlester might have crossed the line Tuesday when it botched the execution of Clayton Lockett.
According to the New York Times, Lockett was injected with a "newly tried" cocktail of drugs that caused him to "writhe and gasp" and cry out in pain minutes after he'd been declared unconscious. At one point, he "tried to rise [from the table] and exhaled loudly," prompting prison officials to pull a curtain in front of witnesses.
An execution that should have taken little more than 10 minutes was stretched to an agonizing 43 minutes, and ended with the convict dying of a heart attack. "This was botched," said David Autry, one of Lockett's lawyers, "and it was difficult to watch."
"It looked like torture," added Dean Sanderford, Lockett's other lawyer.
The background: Tuesday's incident came after weeks of legal battles, where Lockett and convicted child rapist Charles Warner fought to learn the exact mixture of drugs that would be used to kill them.
Lockett's ultimate combination — which had never been tried in Oklahoma — started with an injection of midazolam, meant to render him unconscious. This was followed by vecuronim bromide to stop breathing and potassium chloride to stop his heart, but apparently the midazolam dose wasn't high or potent enough keep him knocked out while the others took effect.
Clayton Lockett (left) and Charles Warner (right); Image Credit: AP
How could this happen? The Times reports that many drug manufacturers "fearful of political ... [or] physical attack" are refusing to supply prisons with drugs used in capital punishment cases. This has one of two effects: It either prompts executioners to forgo tried and true multi-drug cocktails in favor of a less reliable "one-drug" dose, or it pushes prisons to employ "compounding pharmacies — lightly regulated laboratories that mix up drugs to order."
Since the compounding pharmacies are less subject to oversight and "quality control," they are considered less reliable. That the law protects their identities — presumably to shield them from backlash — doesn't help clarify matters.
What's next? Prison officials are adamant that the drug manufacturer in this case was "federally approved," and that the problem was with the "intravenous line" used to inject Lockett. Nevertheless, Oklahoma Gov. Mary Fallin has called for the Department of Corrections to conduct a full review of their execution procedures, while Madeline Cohen, one of Charles Warner's lawyers, insists on a "full and independent" investigation.
Warner's execution has been stayed for 14 days in the meantime.
The takeaway: It's extremely difficult to sympathize with a man convicted of shooting a 19-year-old and burying her alive. But Lockett's agonizing death is shedding new light on the seemingly unshakable inhumanity of capital punishment.
The collective shift from hangings and the electric chair to lethal injection was largely meant to assuage our discomfort around the cruelty of the old methods. But as time passes, this notion is quickly being revealed as little more than a myth.