It Will Soon Be Legal to Stone Gay People to Death in This Country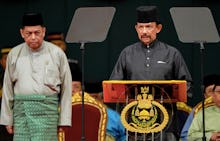 It just became harder to be female or gay in Brunei.
The first East Asian country to adopt sharia law, Brunei will be introducing its Islamic legal system in three phases. As of May 1, failure to attend Friday prayer services and pregnancy outside of marriage could result in fines or imprisonment. The second phase, to be implemented next year, will see theft punishable by amputation. By 2015 crimes such as blasphemy, adultery and consensual homosexual sex will warrant the death penalty by stoning.
Sultan Hassanal Bolkiah, the nation's absolute monarch, first proposed sharia law in the 1990s, and has called Islam a "firewall" against globalization, rising crime and modern influences like the Internet. 
Brunei, which shares the island of Borneo with Malaysia and Indonesia, already followed stricter Islam-inspired laws than its neighbors, banning the sale of alcohol and restricting the practice of other religions. Around 70% of its 412,000-strong population are Malay Muslims, but even non-Muslim Bruneians (who are mostly of Chinese descent) will be subject to the sharia code.
The UN criticized the move, saying the punishments constitute torture and are therefore illegal in the eyes of international law. The UN's spokesman for the high commissioner for human rights pointed to several studies that show that women are more likely to suffer at the hands of sharia law, due to deep-seated discrimination and stereotyping in the justice system. 
Although cases under the new sharia law will require an extremely high burden of proof and judges have been urged to act with discretion, criminalizing homosexuality and limiting female autonomy have a chilling effect and create an environment that negates human rights and inhibits personal freedom. This chilling effect is clear in other countries where homosexuality has recently been criminalized, such as Uganda. That country's strict anti-gay laws has already led to instances of anti-gay bigotry, including the public outing of reported members of the LGBT community by Ugandan tabloids.
Image Credit: Getty
In Brunei specifically, the changes "may open the floodgates for further human rights violations against women, children and other people on the basis of sexual orientation and gender identity," the Asia Pacific Coalition on Male Sexual Health and Islands of Southeast Asian Network on Male and Transgender Sexual Health said in a statement.
They added that the sharia penal code "significantly impacts the lives and sexual health of its citizens most vulnerable to HIV: men who have sex with men, transgender people and young people from key populations. Under this light, penalties directed to sexual relations between two consenting adults impede rights to health, privacy, confidentiality and equality before civil law."
Several countries have been adopting more progressive attitudes toward the LGBT community in recent years, decriminalizing homosexuality and legalizing same-sex marriage. Yet other nations are taking steps in the opposite direction: In February, Uganda passed a bill that makes "aggravated homosexuality" punishable with life imprisonment, just weeks after India's Supreme Court overturned a lower-court ruling, reinstating a ban on gay sex, punishable by up to 10 years in jail. 
Previously the maximum punishment in Brunei for gay activity wasa 10-year prison sentence. Homosexuality is illegal in around 80 countries, and Brunei now joins a handful of countries (spread across the Middle East and West Africa) where consensual gay sex — living openly, comfortably and naturally — could cost you your life. 
Image credit: CBC News
News of the legal changes in Brunei has so far been met with outrage and dismay by activists around the world, including in the U.S. In Los Angeles, activists have banded together to boycott the landmark Beverly Hills Hotel, after it was revealed that the famous spot was owned by a development company controlled by the Sultan of Brunei, Hassanal Bolkiah. Even influential television host Ellen Degeneres has lent her support to the boycott, notifying her social media followers that she will be staying elsewhere for the time being.