Connecticut Is Trying To Send A 16-Year-Old Transgender Girl to an All-Male Prison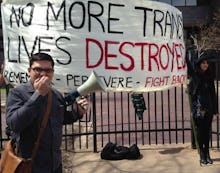 Last month "Jane Doe," a 16-year-old transgender girl of color, was sent to Connecticut's York Correctional Institution without a criminal charge or conviction. The case has ignited a storm of protest with its apparent convergence of so many historical injustices, from racism to ageism to ableism to transphobia, all coming to bear on one vulnerable teen.
Jane Doe, though a survivor of numerous instances of violence and abuse, including those allegedly at the hands of Department of Children and Families (DCF) staff, was placed in the adult facility because she was deemed "too violent" by DCF after an altercation in which she allegedly injured a staff member.
DCF Commissioner Joette Katz has issued a statement noting that the teen will remain imprisoned indefinitely. In an op-ed published in the Hartford Courant last month, Katz further claimed that she transferred the teen into the adult system "with great reluctance and sadness" in an effort to "protect the other girls as well as the female staff members."
But it appears that this may be only part of the story.
The teen's supporters say the state is blaming the victim, without a clear plan in place for her emotional and physical well-being. And now there are allegations that Katz may have misled the public when discussing the teen's case in the face of intense backlash.
VICE News has since obtained court documents suggesting that Katz is the one responsible for a motion asking the court to transfer the teen to an all-male, high-security prison for inmates up to age 21. While this transfer did not go through, the threat that Jane Doe could be sent to an all-male prison is a terrifying one. As a young transgender woman, the teen would face even higher chances of physical and sexual abuse in such a facility than those she's already encountered. In fact, congressional findings in the 2003 Prison Rape Elimination Act state that juveniles held in adult facilities of any kind are five times as likely to be sexually assaulted, while advocacy groups report that juveniles housed in adult facilities are 36 times more likely to commit suicide.
While the circumstances that led to her imprisonment are questionable, her abuse is not. VICE also has obtained documents that prove Jane Doe was "severely physically, emotionally and sexually abused, and repeatedly raped from age 8 onward. According to the girl's affidavit, some of those sexual abuse incidents took place at the hands of staff members at Eagleton School in Massachusetts and the DCF facility Connecticut Children's Place, where Doe lived at the respective ages of 12 and 13."
Propelled by the urgency of this situation, 50 protesters gathered on April 25 outside Connecticut's DCF headquarters, along with solidarity protesters who simultaneously gathered outside NYC's Administration for Children's Services. Organizers carried a bullhorn, a microphone and a large banner that read "No More Trans* Lives Destroyed." While Jane Doe's lawyer sat in tense negotiations with DCF, the crowd chanted "DCF! DOC! Jane Doe must go free!" and "Victim blaming? We say no! We want justice for Jane Doe!"
Resonant with recent experiences of other imprisoned and policed trans women like CeCe McDonald, Chelsea Manning and Monica Jones, Jane Doe's case has hit a nerve among both transgender rights and prison reform advocates. At the nexus of these activist circles lies a uniting belief that the failure to acknowledge the teen's female gender identity is part of the abuse that the prison can visit on her as a transgender person.
The April 25 protest saw Jane Doe's supporters giving impassioned speeches on ways in which Connecticut's state government, including and beyond the Department for Children and Families, has repeatedly failed the promises it made to LGBTQ youth. They argued that prison does not replace therapy when a youth's violent behavior results, in part, from years of abuse from those who should have protected her.
This view is supported by the teen's own account, published in court documents as well as in the Hartford Courant at the end of April. "Although my life has been harder than most anyone can imagine, the last few months were the worst," the teen wrote. "I haven't agreed with everything DCF has done, but I thought they were supposed to be on my side. That changed after what happened in Massachusetts." She continued:
Now, I am sitting in a room at the end of a hallway in the psych ward at York Correctional Institution. I'm in my room 22 hours a day with a guard staring at me — even when I shower and go to the bathroom. It's humiliating... I tell myself that this is just a nightmare, but it doesn't end. I know that I need to work on my issues and I want to, but this is not the place. I am afraid of the women here. I don't want to be around them. They yell comments to me and make fun of me when they see me.
With the disappointing news that Jane Doe will remain in prison indefinitely — and no real clarity yet on whether she could eventually be transferred to an all-male facility — protesters are redoubling their efforts to keep the case a presence on social media and change.org, and are planning future demonstrations. 
Summarizing a sentiment many supporters feel, a Connecticut-based journalist and trans woman published her own heartfelt missive to the teen: "I am so sorry we failed you so badly. ... In the meantime, carry us all in your heart, dear girl. You may be there in solitary, but you are never really alone."