One Picture Sums Up the State of America's Infrastructure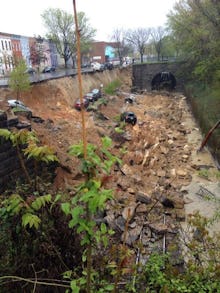 The news: A major sinkhole opened up on East 26th Street in Baltimore on Wednesday, swallowing cars and shattering utility lines. It may appear that the collapse came out of nowhere, but residents have been complaining about the crumbling street for years. While the cause of this isolated incident hasn't been determined yet, it's emblematic of collapsing American infrastructure that, in many cases, hasn't been updated or adequately maintained for decades.
"The street caved in back in the '80s on the other side of the school. We knew this was going to cave in because you could see the cracks getting wider and wider," a local woman told CBS Baltimore. "Several neighbors have called the city over the past year; they patched it with blacktop. But over the winter, because of the snow, it just kept cracking. I got home at 3:30 and there were already several cars, about eight of them, settling into the ground."
The dramatic sinkhole isn't the only urban disaster cause by poorly maintained infrastructure. On March 12 an apartment building in New York's East Harlem exploded from a gas leak, killing at least eight people and injuring more than 70 others. Further investigation revealed that the gas main buried under Park Avenue at 116th Street dated back an astonishing 127 years, having been originally laid in 1887.
"Pipeline operators are required by federal law to have an integrity management system to be able to manage their risk, [to] understand what's in the grid, so if a pipe is properly managed and the risk assessment is properly done, the age should not be a factor," said National Transportation Safety Board member Robert Sumwalt. But clearly the pipeline operator chose not to or lacked the resources to properly maintain New York's aging gas lines. New York has 6,302 miles of pipes and experiences thousands of leaks a year in what the New York Times called "a glaring example of America's crumbling infrastructure." Con Edison estimates the cost of replacing the network at $10 billion.
Around the country: Nationwide, the American Society of Civil Engineers says that woeful underfunding and severely degraded conditions will end up costing the U.S. a huge amount of money. The group predicts the shortfall in funding required to maintain our infrastructure will be $1.1 trillion by 2020 and $4.7 trillion by 2040. Electrical grids, water and wastewater systems, surface transportation, airports, waterways and ports are all at risk. Overall, the engineers graded America a D+ for infrastructure, roads and transport systems a D and bridges a C+.
More than 40% of American highways are congested, leaving the average U.S. commuter in traffic for 34 hours a year. Thirty-two percent of interstates and major highways are in substandard condition, costing $67 billion (or $324 per motorist) annually in vehicle repairs and operating costs. According to the U.S. Department of Transportation, the number of road fatalities grew in 2012 for the first time since 2005, with crashes costing $230 billion a year. Infrastructural improvements could help minimize those crashes by making roads safer and improving their condition.
Our digital infrastructure sucks too. The World Economic Forum ranks the U.S. 35th in broadband bandwidth capacity worldwide, while customers enjoy some of the highest Internet prices in the world.
And just look at our bridges.
Ultimately, a lack of resources will cost Americans jobs, suppress economic growth by billions of dollars, lead to unnecessary and preventable outages and service pitfalls and add direct costs that could eventually reach trillions of dollars. America's crumbling infrastructure desperately needs support, and it needs it now.