There's More Bad News for People Who Smoke E-Cigarettes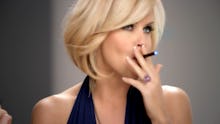 The news: The entire point of e-cigarettes is that they claim to be healthier than regular old cigarettes. Because users don't have to light up tobacco to smoke, they don't inhale as many carcinogens. At least, that's what e-cig users have been told.
But according to two new, peer-reviewed studies coming out in the journal Nicotine and Tobacco Research, it seems that some e-cigarettes do emit high levels of cancer-causing formaldehyde, at about the same level as their traditional counterparts.
These findings are still very new, but they lend credence to the argument that critics of e-cigarettes have been making all along: Despite what Jenny McCarthy says, we still don't fully understand the health risks associated with these products, and they may in fact be just as bad as cheap tobacco cigarettes.
That whole "better for you" spiel might just be nothing more than a smart marketing campaign. 
Why they're bad for you. Formaldehyde is a toxin that is created when nicotine and other cigarette ingredients are exposed to high heat. E-cigarettes are not supposed to generate as much heat as tobacco ones, and thus prevent the creation of formaldehyde.
Except some don't. The new studies found that tank-style e-cigs — the large, refillable types that vaporize liquid nicotine — get very hot, and actually create similar levels of formaldehyde as tobacco cigarettes.
It gets worse when you factor in user behavior. Many e-cig users like to boost the device's heat output, and it's particularly trendy to engage in "dripping," the practice of trickling drops of liquid nicotine directly on the heating elements. The intense heat changes the chemical composition of the ingredients and creates carcinogenic byproducts. The hotter, the more toxic.
This means that while e-cigarettes may generally be less harmful than tobacco cigarettes, there are certain device types and user styles that make them just as dangerous. "If I was in a torture chamber and you said I had to puff on something, I'd choose an e-cigarette over a regular cigarette," said Virginia Commonwealth University's Alan Shihadeh, who led the research. "But if you said I could choose an e-cigarette or clean air, I'd definitely choose clean air."
The government may soon step in. E-cigarettes' billion-dollar expansion may be outpacing federal regulations, but the Food and Drug Administration (FDA) is trying to catch up. Last month the agency proposed regulating e-cigs under the same rules as combustible tobacco cigarettes.
Current policy allows minors to buy e-cigs and lets people use them in areas with smoking bans, while companies can run TV ads claiming that e-cigarettes are not that harmful. This would all change with the FDA proposal.
Still, there are limitations to what they can do. Under the new rules, the FDA will regulate what actually goes into the cigarettes, but not what comes out. That means that there won't be oversight regarding the levels of carcinogenic toxins that e-cig vapors create, arguably the most dangerous part of these devices.
Sorry, e-cig fans.