While We Were Talking About That Nigerian School Abduction, Another One Happened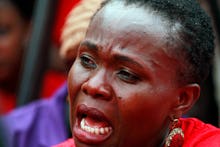 The news: Members of Nigeria's Boko Haram terrorist group have reportedly assaulted a school and one village, seizing young girls as hostages just weeks after a raid on a Chibok boarding school claimed 234 schoolgirls as prisoners.
In the village of Warabe, 40 miles south of the Borno state capital of Maiduguri, gunmen kidnapped eight girls between the ages of 12 and 15.
"Some Boko Haram members invaded our village on Sunday night and kidnapped our young girls and made away with food items and livestock," said local resident Musa Ibahim in an interview with the UK's Channel 4 News. "There were around 30 of them and they were well armed."
"They were many, and all of them carried guns. They came in two vehicles painted in army colour. They started shooting in our village," said another villager.
In an even more blatant attack, Vine International Academy was assaulted at 8 a.m. Tuesday morning by gunmen in the capital of Abuja, where the World Economic Forum is scheduled to open on Wednesday. "Three gunmen suspected of belonging to Boko Haram attacked our school eight o'clock this morning but did not succeed in taking any of our pupils," sais Founder Folakolade Tamitatayo. "They took away a 14-seater belonging to the school."
The background: Boko Haram, whose name means "Western education is a sin," is an Islamic jihadist terrorist organization operating in Nigeria, northern Cameroon and Niger. It seeks to put an end to regional Westernization and establish a shariah state and attacks symbols of Western commerce, education and culture as well as the Nigerian government. 
The group's leader, Abubaker Shekau, (or a double; the Nigerian military believed he was mortally wounded last year) released a 57-minute video earlier this week threatening to sell abducted girls "in the marketplace" for their sin of "Western education."
"In the past, when boys have been killed at schools that have been raided, the girls have been spared, told to go home, get married and give up Western education," NPR Africa correspondent Ofeibea Quist-Arcton reported. This week's events show how these militants are seizing upon the success of last week's now-infamous raid and trying to replicate its results. With the international community now clamoring for Western forces to seek the release of the abducted schoolgirls, it seems to be working.
People often think of locales like Mexico City as the kidnapping mecca of the world. But though the events of the past month have been staggering and unprecedented, lawlessness already made Nigeria the worst country in the world for kidnap and ransom incidents in the first half of 2013.
With a population of just 168.8 million, Nigeria accounts for some 26% of all recorded kidnappings. That's almost as much as the entirety of the Americas (27%) and more than the continent of Asia (19%). Risk analysis firm Control Risks estimated that 74% of all kidnappings in Africa were in Nigeria.
High economic inequality has spurred on recent kidnappings as criminal groups realized employees working for international firms were lucrative targets. Wealthy Nigerians have prime excellent targets as well: In September, bandits kidnapped Archbishop Ignatius Kelley, the second-highest ranking member of the Anglican Church in Nigeria.
What does it mean for Nigeria? Now it appears the militants have fully adopted kidnappings as a a regular tactic. And apparently, it's taken an incident of this scale of last week's schoolgirl abductions for the rest of the world to begin caring about the epidemic of kidnappings in Nigeria.
Public fury at the Nigerian government's apparent inability to address the spate of kidnappings has grown within the country, and a protest leader was recently briefly detained before being released among public outcry. President Goodluck Jonathan's wife, Patience Jonathan, criticized protesters by accusing them of "playing games" and warning them not to use the kidnappings as a pretext for demonstrations. But President Jonathan's government has accepted an offer from the U.S. to provide a support team consisting of U.S. military personnel and law enforcement officers.
They can't arrive soon enough. Three of the abducted girls may have died, Channel 4 News reports, and 18 are very sick.