What Everyone's Missing About Kurt Cobain's Vicious Note to Courtney Love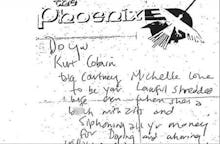 Twenty years after the tragic and mysterious death of Nirvana frontman Kurt Cobain, the case has returned to the public eye. The Seattle Police Department recently released a cut-off picture of a bizarre letter found in Cobain's wallet during its investigation of his 1994 suicide. The note reads as a vicious mockery of Cobain's marriage, with Courtney Love characterized as a "bitch with zits ... siphoning all [Cobain's] money for doping and whoring."  
The note spread across the Internet — this was finally proof that Love had effectively driven Cobain to his death. The Cobain-Love union has generated negative speculation ever since they tied the knot on Wakikiki Beach. Donning green pajamas because he felt "too lazy to put on a tux," Cobain wasted no time in setting the stage for the public perception of his precarious marriage. Because Cobain was hailed as a demigod by his grungy disciples, Nirvana fans quickly turned the evil eye on his new bride. So it should come as no surprise that Love's many detractors had a field day with the newly released letter. 
But the the real story didn't emerge until the full contents of the letter were revealed in another picture a few days later. The new line read, "Will you promise to fuck her at least once a week, OK?" suggesting the letter was a joke. Then, Cobain's biographer argued Cobain didn't even write it. The true author was (queue Dave Grohl drum roll), Courtney Love! Since everyone is so intent on taking her down, here's an explainer on what really happened with the letter and between Cobain and Love — it's time we told the truth.
Image Credit: Spin.
1. How do we know who actually wrote the letter?
Love wrote the letter. Two independent sources have attributed the handwriting to Love (she emailed the Seattle Times to claim responsibility). Additionally, the letter was written on stationery from San Francisco's Phoenix Hotel. According to one San Francisco hotelier, Cobain and Love regularly stayed at the hotel together.
Cobain's biographer, Charles R. Cross, has confirmed that Cobain and Love stayed at the Phoenix while Nirvana was playing a New Year's Eve gig alongside Pearl Jam and the Red Hot Chili Peppers. Apparently, Cobain and Love would exchange side notes like the all the time. Cute, in a way.     
2. Why are people so suspicious of Cobain's death?
According to the Seattle Police Department, Cobain died from a self-inflicted gunshot wound on April 5, 1994. He was 27 years old. Though the King County medical examiner's findings were conclusive, many speculated that Love may have played a role.
Cobain's passing has been the subject of songs, books and documentaries, all of which purport to reveal the true cause of death. Tom Grant, a private investigator, believes that Cobain was murdered.  Though Grant has been unsuccessfully lobbying the Seattle Police Department to reopen the case for almost two decades, he proffered three compelling nuggets of evidence.
First, Cobain asked his attorney to draw up a will excluding Love just days before his death. Second, the level of heroin in Cobain's bloodstream was so high that he shouldn't have been able to pull the trigger on a Remington shotgun. Third, no legible fingerprints were found on the gun, despite the fact that it had to be pried from Cobain's rigid hands.  
Though Grant has been the most vocal critic of the investigation, he's certainly not alone. According to a Seattle Police Department spokeswoman, the department receives weekly requests to reopen their investigation. These days, the requests mostly come through via Twitter.
3. Why are people intent on hating Love?
Haters just love to hate, especially when it comes to Love. Folks have been jealous of her for decades, mainly because of her intimate relationship with Cobain. Love plays by her own set of rules. Talented, freewheeling, independent women never have an easy path in show business, and being married to a rock deity who died young makes the road even rockier.    
4. How did Cobain really feel about Love?
It's hard to be sure, but most of the evidence suggests that he loved her deeply. If anything, this letter shows that he cared a great deal for Love. When Cobain took his own life, he was carrying a sarcastic letter that Love wrote nearly three years prior. It obviously meant something to him.
The strongest piece of evidence here, though, is the end of Cobain's suicide note: "I have a goddess of a wife who sweats ambition and empathy ... Please keep going Courtney, for Frances."
5. How has Love been dealing with the note and investigation?
Things are looking up for Love. In the last week alone, she's reestablished her innocence, garnered some valuable publicity and leaked her new single, "Wedding Day," to the tune of rave reviews. She has refused to comment publicly on the note, though she did claim responsibility via email.
6. Have we learned anything new about Cobain's suicide?
For the conspiracy theorists, the search will never end. For the rest of us, we can probably go back to speculating over more promising subterfuge like financial fraud and gun trafficking.
It's hard to see your idols go, and harder still to put to rest the ones who let their fans so close. But Cobain's cause of death is fairly certainly suicide. Even if it weren't, it wouldn't change the fact that he's gone.