Want to Take a Trip to North Korea? There's an App for That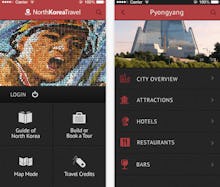 The news: Ever wonder what it's like to live in the most secretive country in the world? Ever wanted to take pictures with a hundred different statues of the reigning Kim family, then hang out courtside with Dennis Rodman and the Dear Leader himself, Kim Jong-un?
As you may know, it's actually possible to visit the hermit kingdom through licensed tour companies. But given the Democratic People's Republic of Korea's history of detaining visitors, a spring break in Pyongyang might not seem like the most attractive option. However, if you are an adventurous globetrotter (or if you're an armchair traveler who likes to compile wishful to-visit lists), there's a perfect new app for you.
Meet North Korea Travel, an app that provides an unprecedented look at 350 of North Korea's top tourist sites. It's an interactive guidebook mapped onto satellite imagery of the country, filled with insider tips and travel deals.
Image Credit: iTunes
"Whether users have no intention to ever visit North Korea or are actively planning a trip there, this 100% unofficial app is a great way of seeing just how much of the world's most secretive nation is now open to foreigners," said the app's developers, who happen to be British and Russian, in a press release. It's currently available for purchase in the iTunes store for $0.99. They are also planning on building similar apps for Cuba, Iran, Eritrea and Turkmenistan.
The controversy: Tourism in North Korea is more popular than ever, with 5,000 foreigners making the trip last year, representing a steady increase in the past decade. But it's important to keep in mind that these tourists are getting a very sanitized, officially sanctioned view of life in North Korea. As VICE learned in its controversial documentary trip to the country, it's hard for foreigners to get an inside look at some of North Korea's less tourist-friendly attractions, such as its political prison camps, or interact with the civilians who are subject to deliberate starvation, forced labor, torture and public execution.
It's also impossible to ignore the fact that every foreign dollar spent in North Korea directly lines the pockets of the regime. Because tourism is still a rather small industry, the revenue it generates is negligible; still, it's ethically dubious to financially support a government that a recent UN report described as "without any parallel in the contemporary world" (and not in a good way).
For its part, the regime seems open to visitors, in spite of a few errant arrests and intense anti-U.S. rhetoric. For the first time last month, the Pyongyang Marathon allowed foreign runners to participate, and the city announced that it will host a seven-day international film festival this September.
And a lot of people — like Rodman, this happy Canadian Instagrammer who documented her "great adventure" or this American tourist who tried to defect and seek asylum during his trip — seem to reciprocate the feeling. Why worry about legitimizing and providing funds to a brutal authoritarian regime when you can get the ultimate bragging rights about visiting and seeing the regime at work? Totally worth it.