This Is What Happened When Police Decided to Live Tweet a Sex Worker Sting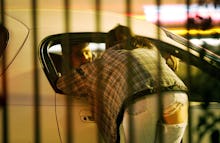 Maryland's Prince George's County's police department proudly announced last week it would embark on an "unprecedented" and "progressive" prostitution sting, in which it would target johns by tweeting suspects' photos and information in live time. 
"We won't tell you when or where, other than it's somewhere in the country next week," the police department said in an apparent attempt to instill fear into both sex workers and their clients, while increasing its social media following. "You can follow @PGPDNews and search #PGPDVice as we take you along for the takedowns." 
In theory, an operation that protects prostitutes or improves transparency between the authorities and citizens should be applauded. But theory and practice are not always aligned.
Many opponents argued that by putting johns at the heart of its live-tweet sting project, the police department was implying that there is something inherently shameful about sex work — that johns deserved to be humiliated more than, say, thieves or drug dealers.  
"At play here is a depressingly retrograde attitude about sex work: that it's more shameful than other types of law-breaking," Katy Waldman wrote for Slate. The job of the police shouldn't be to judge or jeer but to deliver suspected miscreants into the hands of the criminal justice system. Not to mention, as the Atlantic's Conor Friedersdorf pointed out, that tweeting photos of alleged johns is legally and morally problematic, as it tars suspects as criminals before they've had a fair trial. 
Although this sting purported to target johns, not the sex workers, police departments don't have a great track record when it comes to handling prostitution. The picture that accompanied the Prince George's Police Department's original press release, of a woman being led away in handcuffs, didn't help paint that picture either (and it has since been deleted). 
The idea that police might end up adding to the stigma against sex workers was especially problematic for transgender advocates like the National Center for Transgender Equality, which publicly criticized the initiative. 
"Broad stings and public shaming are regressive tactics that don't decrease prostitution or address any of the issues associated with it," the organization said in a statement. "Instead, it feeds the stigma and fear that make sex workers vulnerable to robberies, assaults, and even abuse by police themselves." In fact, the stigmatization of the sex industry is part of the reason sex workers are at a higher risk of poverty, mental health issues, physical and emotional abuse, incarceration, drug addition and contracting HIV — with less access to health care — according to the Centers for Disease Control. 
Despite the backlash the sting went ahead — but without the live-tweeting, which was cancelled because the undercover officers were becoming "increasingly concerned about the potential compromise of their identities." Unlike in previous operations, however, the sting did not result in any arrests.
Attempting to spin the results as a positive, the police department claimed the lack of arrests was actually a sign of progress. "By advertising this days ago, we wanted to put johns on notice to not come to Prince George's County. That message was heard loud and clear. We just put a dent in the human trafficking business without making one arrest," said Sgt. Dave Coleman, the officer in charge of the department's Vice Intelligence Unit.
That's one perspective; another being that what the Prince George's Police Department actually did was drive sex workers underground and send johns looking for sex into someone else's neighborhood. Many on Twitter noted this contradiction, pointing out it was highly unlikely that the department was able to fix human trafficking with a couple of 140-character threats. 
Ultimately, it's clear that the cops' social media campaign backfired — and not for the first time. The police department's own hashtag, #PGPDVice, was turned against it, and advocates said they would match every department tweet from the sting with a donation to HIPS, an advocacy group for sex workers' rights.
Police attempts to crack down on sex trafficking should not be dissuaded, but there's a way to do it. An attempt to humiliate alleged johns and sex workers — or to gain a few more Twitter followers by jumping on the illicit appeal of sex work — is not it.