29 Powerful Portraits Challenging the Definition of What it Means to Be LGBT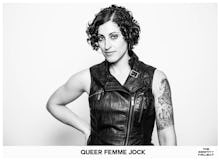 A few months ago, San Francisco-based photographer Sarah Deragon decided to start taking pictures of the LGBT community in her area. Deragon asked her subjects to pose for the camera and submit their own personal identifier — their identity. 
Importantly, these portraits are about the subjects taking agency in their own definitions, not allowing others to create labels for them. "Not only are the portraits striking, the participants in the project are playing with language, making up entirely new terms (transgenderqueer or inbetweener) and showing pride in their complex and ever changing identities," Deragon notes on her website.
The results were remarkable. From "Pansexual Gender Fluid Tomboy" to "Queer Butch Trans Top" to "Homo Queer Fag Bear Daddy" to "Daddy Femme Dyke Dom Queen," the community responded with a creativity and passion indicative of the beautiful diversity of the LGBT movement. While some of the labels may be familiar to the average reader, others are intricate, multi-layered, even whimsical. There is no right answer to the question of how people define themselves — and that's an empowering concept.
As the portraits went viral, the photographer realized "The Identity Project" had national, even global potential. With that in mind, Deragon has started an Indiegogo campaign in the hope of taking the project on the road to reach as many people as possible with her message.
I want to travel to five U.S. cities to photograph other queer communities. I'm committed to reflecting the beautiful diversity of our LGBTQ communities and I am actively seeking participants who are POC, trans*, bisexual, youth, elders, disabled, immigrant and otherwise identify as outside of the mainstream lesbian and gay culture. 
"This is an exciting chance for folks to define themselves, and don't we all desire that freedom to be honest about who we are?" Deragon told PolicyMic. "As a photographer, people are asking me to 'see them,' and this is a wonderful way for me to give back to the community that has given me so much."
The positive reactions to Deragon's initial portrait series have only emboldened the photographer, proving that this is the perfect moment for a discussion on terminology, inclusivity and identity.
"I think that it is an exciting sign of the times that we're able to be so many things at once," she told PolicyMic, "[versus] just being shoved into little boxes and told to be one thing or another. Identities are expansive and this project is the perfect example of that."
1. "Brainy Gender Queer Drag King"
2. "Queer Dyke Dom"
3. "Queer Trans Daddy"
4. "Butch Lesbian"
5. "Lesbo Butch Switch"
6. "Daddy Trans* Masculine Witchy Queer Otter"
7. "Fierce Queen Xicana Femme"
8. "Sober Celibate Daddy-Father Punk"
9. "Pansexual Queer Wannabe Dyke"
10. "Queer"
11. "Queer Working Class Femme"
12. "Bearded Queer"
13. "Deaf Queer"
14. "Queer Agender Trans* Asaurus Rex"
15. "Fat Queer Indigenous Femme"
16. "Mischevious Butch Fag"
17. "Pansexual Indian Lesbian"
18. "Queer Gender Creative Transboy"
19. "Gender Fluid Trans Chicana"
20. "Non-Binary Autistic Gay"
21. "Genderweird Queerdo Carebear"
22. "Queer Masculine of Center"
23. "Dyke Healer Alchemist R/Evolutionary Daddi"
24. "Queer Femme Pillow Princess"
25. "Fourth Wave Lesbro"
26. "Brilliant Black Beautiful"
27. "Queer Femme Jock"
28. "Queer Pappy Daddi Boi Papi"
29. "Platypus"