Kevin Durant's Mother's Day Speech Is Something Every Man Needs to Watch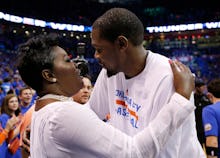 Just in time for Mother's Day, Oklahoma City Thunder's All-Star forward Kevin Durant gave his mom Wanda Pratt one of the best gifts a mother could hope for. Speaking in front of a room full of his NBA peers, Durant sent a powerful message: No man is too important or too grown-up to pay tribute to the strong, resilient women whose sacrifices made their successes possible. 
Durant made the speech Tuesday while accepting the league's Most Valuable Player award. Praising his single mom for raising him and his brother so well, Durant noted the hardships his mother had to endure for their sake.
"When you didn't eat, you made sure we ate," he said. "You went to sleep hungry. You sacrificed for us. You're the real MVP."
Receiving the NBA's highest individual achievement award, Durant, 25, could have spoken at length about his achievements — becoming the first NBA player to win the scoring title and the MVP in the same season since Allen Iverson in 2001, or breaking Michael Jordan's modern era record of scoring 25 or more points in 41 straight games.
But Durant touched on none of that.
At a time when the NBA is embroiled in controversies such as Clippers owner Donald Sterling's racist and sexist remarks, Durant proved that young men in the league are capable of setting better examples than some of the guys holding the purse strings. 
Durant's story is one common to many Americans. Growing up in a predominantly black neighborhood in a small county outside Washington, D.C., Durant's mother worked many jobs, including one as a night shift mail-handler for the U.S. Postal Service. 
"Me, my mom, my brother — we moved so many places growing up and it felt like a box. It felt like there was no getting out," Durant said in his speech.
Image Credit: YouTube
A proud mother who goes by the handle @MamaDurant on Twitter, Pratt always took her job seriously, recognizing what a big task it was to keep her sons from getting into any trouble.
"I remember thinking I need some activities for my boys to keep them away from some of the ills that are associated with growing up in areas that we came from," she said in an earlier video.
That was one of the reasons Durant's mother was so active in his basketball career growing up.
"You woke me up in the middle of the night in the summer times. Making me run up a hill. Making me do push-ups. Screaming at me from the sidelines at my games at eight or nine years old," Durant told his mother, who was sitting in the audience Tuesday, tears rolling down her face.
Image Credit: YouTube
When Pratt later appeared on NBC's Today Show, she had some words of encouragement for all the single moms like her. "Never give up. Always put your children first. Commit to their dreams," she said. "Even when it gets hard, when you have lonely nights ... remember it's for them."
Durant's tribute to his mother was a trending hashtag — #therealMVP — from coast to coast. The deeply touching speech clearly resonated with the millions of Americans around the country who identify with Pratt's courage as they, too, struggle to make ends meet.
Even as the economy begins to make some positive strides, the plight of the working classes — working single moms, in particular — is still dire. In fact, according to U.S. census data from 2013, the number of single-mother families living in poverty increased in 2012 to 4.1 million, or 41.5%. At the same time, the national child poverty rate remains at 21.8%.
As Mother's Day approaches, Durant's speech should serve as a reminder of the essential role parenting plays in society, both in the United States and abroad.