The Secret to Making One of the Fastest Selling Pop Songs of All Time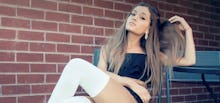 It took 37 minutes for Ariana Grande's new single "Problem" to hit No. 1 on iTunes after it was released at midnight April 28. For those of you playing along at home, that's one of the fastest ascents in the history of digital music. The track went on to sell 438,000 copies in its first week, making it the eighth-highest debuting digital single of all time and the highest-debuting single since Katy Perry's "Roar" dropped with 557,000 first-week tracks in mid-2013. 
This week, it became No. 3 on the Billboard Hot 100, right beneath monster-hit "Happy." This song is growing at a nearly unprecedented rate, and it will be the song of the summer.
Aside from the obvious reasons for its success (the track was co-written by Swedish songwriting savant Max Martin; Grande is a breakout Nickelodeon star with a No. 1 album under her belt), there's one thing that makes "Problem" an overnight sensation: It's the perfect combination of some of the biggest and most recognizable pop hits ever.
It's an old trick for record-breaking tracks — Katy Perry's "Roar" (debut sales of 557,000) gives a lyrical nod to the jock bombast of Survivor's "Eye of the Tiger" and Queen's "We Are the Champions"; Lady Gaga's "Born This Way" (509,000 first week) is essentially a thinly veiled rewrite of Madonna's "Express Yourself." The trick is that if you want consumers to hit "purchase" right away, you have to give them something they already know. But Grande is taking the practice to a whole new level.
"Problem" is the ultimate Franken song. It distills 30 years of hit music into three perfect minutes — blending Grande's oft-cited '80s and '90s influences with today's pop and hip-hop trends without sounding derivative. Here's how she and Max Martin made the perfect pop song.
1. She is Mariah 2.0.
Since releasing her debut single "The Way" in 2013, Grande and her four-octave range have been earning comparisons to Mariah Carey, the Elusive Chanteuse herself (although sorry Ariana, Mariah's got an octave on you).
She's inviting the comparisons, too, by releasing singles that feature collaborations with hip-hop artists. "Problem" proves no exception by including fellow chart-topper Iggy Azalea, and we all have "Fantasy" to thank. 
2. That sax line is stolen from Macklemore (who stole it from J. Lo).
Say what you want about Macklemore, but he brought sax(y) back with "Thrift Shop." An instrument which, for a while, was relegated to elevator fodder has reentered popular music with a vengeance.
It's worth noting, though, that Macklemore's innovative sax line is pretty damn similar to Lopez's "Get Right" (which hit No. 12 on the charts and stuck around for 17 weeks).
"Problem" takes the same basic line and uses it to maximum effect. Grande's track takes what was good about "Thrift Shop" and leaves the rest. One day, it'll make for one hell of a mash-up.
3. Iggy Azalea perfectly channels Macklemore.
Azalea, who currently has the third and fourth spots on the Billboard Hot 100, nails her rap verse, largely because her flow is exactly the same as Macklemore's delivery on "Thrift Shop." 
Compare her lines "Iggy Iggy / Too biggie to be here stressin' / I'm thinkin' I love the thought of you / More than I love your presence" to Macklemore's "Coppin' it, washin' it / 'bout to go and get some compliments / Passin' up on those moccasins someone else's been walkin' in." The delivery is identical. Looks like Iggy did some thrifting of her own. 
4. Its chorus is from "Dark Horse."
There's been a shift over the last year or two — thanks in no small part to the rising popularity of dubstep — from pop songs that build until they burst (Katy Perry's earlier smash "Firework" builds to a huge, anthemic chorus) to those that build until they drop ("Dark Horse" builds and builds until the bottom falls out).
The pre-chorus of "Problem" builds enough tension that it sounds like Grande is going to belt it out Mariah-style, but instead cuts to a somehow satisfying whispered chorus by an uncredited Big Sean. Bringing us to ...
5. It takes equally from Michael Jackson and ... the Ying Yang Twins?
The whispered chorus is more recently a technique made famous by the Ying Yang Twins (the always terrifying "Whisper Song") and Grande influences like Janet Jackson. But this one takes straight from the source, the godfather of pop: Michael Jackson.
Jackson's voice was and will always be one of the most versatile voices in pop music. If you listen closely to his hits, you'll hear him gasping, whispering and breathing heavily to augment the drums while never missing a note. Just listen to how he wrote "Beat It" — the same exact style of whispered lyrics and sharp breathing drive the chorus on Grande's hit track.
6. It has the same percussion as '90s hits by En Vogue and Janet Jackson.
Most of early hip-hop was driven by one machine: the Roland TR-808 drum machine, whose sample drum sounds gave us a whole genre of popular music. But before they dominated hip-hop, they drove an influential genre of late '80s/early '90s pop fusion called New Jack Swing (see: old school pop smashes like Janet Jackson's Rhythm Nation 1814). 
Grande's catalog draws heavily on this early incarnation of pop-laced R&B (she's already collaborated with pioneering New Jack Swing producer Babyface) and "Problem" is a perfect homage.
7. It has harmonies straight out of your childhood.
That super-tight backing chorus harmony that sounds like it's coming from a telephone on "One less / one less / problem"? That's Martin's signature chorus harmony. Here, he's cribbing from one of the biggest boy band hits he didn't write. There are only a few of those. 
That same trick was all over '90s pop music, from Christina Aguilera's "Genie in a Bottle" to Britney Spears' "(You Drive Me) Crazy."
It's a sugar rush for your ears. The whole song is — it goes down easily because it is a brilliant mix of the catchiest bits of pop from the last 30 years. That may sound derivative, but it takes a genius and a star to make it work this well. That's why the song is going to be inescapable.