Rumors Are Swirling That Brazil Will Be Stripped From Hosting the Next Olympics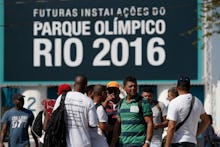 The news: Well, hopefully the Spice Girls are up for another reunion performance — because the Olympics just might come back to London in two years.
On Friday, the London Evening Standard reported that the International Olympic Committee is alarmed about the chaotic situation in Brazil, and seriously exploring the option of asking London to step in. The English capital hosted the relatively glitch-free Summer Olympics in 2012, and would be the first city to host back-to-back Olympic Games.
"At a comparable planning stage in 2004 Athens had done 40% of preparations on infrastructure, stadiums and so on. London had done 60%. Brazil has done 10% — and they have just two years left. So the IOC is thinking, 'What's our plan B?'" a source told the paper. "Obviously, the answer would be to come back to London. It's very unlikely but it would be the logical thing to do."
Can this actually happen? Not so fast. The IOC is standing by Brazil for now, and is denying the Evening Standard's claims. "Not a shred of truth in it," IOC spokesman Mark Adams said in an email to the Associated Press. "Simply a non-starter — totally without foundation and totally unfeasible."
And there are significant logistical challenges to returning the Olympics to London. For one, many of its facilities have been taken down or converted for public use; the Olympic Stadium is being reconfigured for the West Ham football club, and the athletes' village, which once housed over 10,000 competitors, has been turned into private housing.
Even the Evening Standard report admits that it would cost billions of pounds to reclaim these properties and and get them ready by 2016.
Image Credit: AP
But the situation in Brazil really is dire. As with any rumor, there's a nugget of truth to it — and the fact of the matter is Brazil is in no shape to host the Summer Games. Just last month, IOC vice president John Coates expressed his worry at an Olympic forum in Sydney: "I think this is a worse situation than Athens in 2004. It's the worst that I've experienced," he said. "We have become very concerned. They are not ready in many, many ways."
Brazil's resources are also outstretched because the country has another huge international event in its horizon: the 2014 World Cup, which it will host in just five weeks. Two stadiums have not even finished construction, and this week marked the eighth accidental death of a construction worker.
And in its effort to clean out the city for tourists and World Cup spectators, Brazil police have raided favelas and clashed violently with the people, which some believe has in some cases amounted to human rights abuse. Around 19,000 families near development sites have been forced to relocate with little notice or compensation, while violent shoot-outs between favela gangs and armed troops have led to civilian deaths.
Image Credit: AP
So while it's unlikely that London will return to its hosting duties so soon, the rumor is not completely far-fetched given the unstable situation in Rio. London has already served once before as a last-minute Olympic host, when an eruption at Mount Vesuvius prevented Italy from hosting the 1908 Summer Games. If things don't improve in Brazil over the next two years, relocation might not seem like such a ludicrous option.