ABC's New Sitcom Wants to Challenge One of TV's Biggest Stereotypes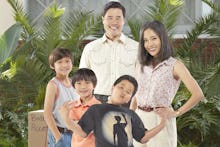 The last time an Asian-American family had their own American sitcom was in 1994. The show was Margaret Cho's All-American Girl and while the Korean-American comedy was poised to be groundbreaking, it didn't pull the ratings ABC wanted and was canceled after one season. Cho says executives found it to be either "too Asian" or "not Asian enough," and the sitcom's premise changed so many times that by the end of its run, it looked nothing like the culture clash family comedy it originally set out to be. 
Next season, an Asian-American TV family will make television history by helming the first Asian-American-focused sitcom since Cho's one-season show. Fresh Off The Boat, based on the memoir by chef and restaurateur Eddie Huang, takes place in 1990s Orlando and follows the lives of 12-year-old Huang's Taiwainese immigrant family, and the culture shock that ensues when they move from Washington D.C. to Florida. The show stars Randall Park (who Veep fans will recognize as Danny Chung) and is a long-overdue win for Asian-American representation in the primetime slot. 
Image Credit: Twitter 
Even with an estimated 18.9 million people of Asian descent living in the U.S., Asian-Americans on television are vastly underrepresented. A few shows like Elementary (which stars Lucy Liu) and The Mindy Project (which obviously stars Mindy Kaling) focus on empowering Asian protagonists. There are also a few shows out there with compelling Asian secondary characters like Veep's Danny Chung, Grey Anatomy's Cristina Yang (at least until recently) or Agents of S.H.I.E.L.D.'s Agent May, but by and large, Asian characters on television shows get sidelined (think Kalinda Sharma on The Good Wife or Tina on Glee), painted with broad stereotypical strokes or are never even written at all. 
Even shows that are praised for their diversity like Orange is the New Black or Brooklyn Nine-Nine don't have Asian regulars in the cast, and the two highest-profile Asian children on television right now — Modern Family's Lily and Trophy Wife's Bert — are depicted as children adopted by white families; certainly that is not the only story about Asian children we should be telling.
Fresh Off The Boat has already faced controversy. An early title for the series was Far East Orlando until Huang, who serves as a producer on the show, lead a Twitter campaign to get the name changed. 
Still, Angry Asian Man — a popular blog about Asian-Americans — has high hopes for the new sitcom writing, "having read a draft of the pilot script for Fresh Off The Boat and being privy to some of the production, I think this is something wholly fresh and different, and really worth looking forward to." Hopefully this time the network will let the series find its audience and not worry about what is "too Asian" or "not Asian enough."