How Much of a True Beyoncé Fan Are You?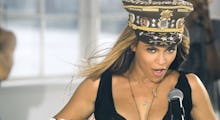 It's been a hell of a month for Beyoncé — as always. On the heels of making the cover of TIME's most influential person of the year issue, Queen Bey addressed the leaked footage of a fight between her husband and her sister, the biggest P.R. fiasco of her career thus far, with grace, class and Instagram. A little more than a week later, she and her husband released a star-studded trailer for an incredible film they have no intention of making, co-starring Sean Penn, Don Cheadle, Blake Lively and Jake Gyllenhaal. It currently has more than 5.5 million views on YouTube.
Our collective fascination with Bey is extreme, but it's also justified. So let's set the elevator brawl aside and refocus on why we worship in the first place: that voice, those moves and the greatest videos of all time.
This is the definitive test of where you rank on the vast and justified spectrum of Yoncé fandom. These 14 GIFs are taken from the most distinct dance moves in her music videos. Name as many songs pictured below as you can and see how you stack up. The answers are at the bottom, so keep that partition rolled up until the end. 
1.
2.
3.
4.
5.
6.
7.
8.
9.
10.
11.
12.
13.
14.
15. How did you do?
Answers: 
1. "Freakum Dress"
1 - 5 correct: You must not know 'bout Bey. Listen to BEYONCÉ in its entirety, STAT, or we'll have to call the Beygency.
6 - 10 correct: You know who Blue Ivy is, but need someone to explain "surfboardt" to you. Go watch Life Is But a Dream and try again when you start referring to yourself as Sasha Fierce. 
11 - 13 correct: Who run the world? Well, you almost do. Brush up on your deep cuts like "Kitty Kat" and you'll be a high-ranking worker-Bey in no time. 
14 correct: Bow down bitches, you are ***Flawless. Call up the girls, put on your Freakum Dress and hit the roller rink. You might be eligible to join the truly hardcore fans in her BeyHive.