11 Photos of Anti-Muslim Violence That Have Many Worried About India's Future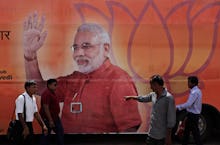 Controversial Hindu nationalist Narendra Modi, 63, will be India's next prime minister. 
The former chief minister of India's western state, Gujarat, and member of the Bharatiya Janata Party, Modi ran on a platform heavily focused on economic growth and opportunity. He's wants to revive the country's stalled economy, with promises of a prosperous India with bullet trains and hydroelectric plants. 
While it might be a happy day for Modi and his supporters, for others, it marks the start of a potentially dangerous time for the world's largest democracy.
Modi is a lifelong member of a paramilitary Hindu nationalist group called Rashtriya Swayamsevak Sangh (RSS), which has carried out assaults on the country's religious minorities. The right-wing group was created back in 1925, directly inspired by Europe's fascist movements.
With 117 million Muslims and 28 million Christians in India, there's reason to worry about what Modi will mean for religious minorities, especially because of his alleged involvement in anti-Muslim riots that led to the murder of thousands in early 2002. 
The riots took place in Gujarat, while it was under Modi's leadership.
The massacre began after reports that Muslims had set fire to a train carriage, killing 59 Hindu pilgrims. Anti-Muslim riots were sparked in relation over the course of the next few months, leaving 2,500 dead — most of them Muslim.
Writing for the Guardian, Pankaj Mishra described the riots as "carefully planned and coordinated attacks of unprecedented savagery."
However, according to a 2002 Human Rights Watch report, "the attacks against Muslims in Gujarat have been actively supported by state government officials and by the police."
Modi has denied a role in the massacre — and has even condemned the riots. However, even over a decade later, the victims have yet to receive justice. According to Human Rights Watch, Modi's government was swift to investigate the train attack but has yet to investigate the anti-Muslim riots that ensued. 
While India's Supreme Court did not find sufficient evidence to convict Modi, the Gujarat High Court called the riots a "negligence of the state."
Still, Modi's inaction during the tragedy, as well as his leadership's track record for discrimination against minorities, leave many reasons to worry for India's future.
Here are 11 photos from the riots that show why there's still reason to worry about Modi's leadership of India:
1.
Young people burn vehicles and debris in the streets of Ahmadabad, in the Indian state of Gujarat on Feb. 28, 2002. 
2.
At least 50 buildings, mostly Muslim-owned, were burned in Ahmadabad.
3.
Razia, a Muslim woman, sobs while praying near her destroyed home on March 2, 2002. 
4.
Nazir Khan, 20, looks out from a refugee camp for Muslims forced to leave by religious violence in Ahmadabad.
5.
At least 942 people had been killed in two months of sectarian violence between Hindus in Muslims in the Indian state of Gujarat.
6.
75 per cent of 8-year-old Hamid Roja's body was burned during Hindu-Muslim riots. The young Muslim boy recieved treatment at a civil hospital in Ahmadabad.
7.
A firefighter tries to douse flames in the Dudheshwer area of Ahmadabad.
8.
Muslim Mohammed Hamif Gandhi cries during a peace rally against the riots at the Kochrab Ashram in Ahmadabad. 
9.
A man walks through the rubble of a Muslim area near Ahmadabad, India.
10.
An unidentified Hindu woman brings her children as she moves to a safer place in stone Viramgam. 
11.
Muslims from Zikkar Hussain Chowal salvage what is left of their ransacked and burnt homes.