The Government Just Turned the Internet Into the Equivalent of First Class and Coach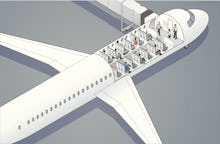 It's official: The FCC is moving ahead with their plan to replace its discarded open Internet rules with new ones that will allow Internet companies to pay for fast lanes, voting 3-2 in favor of the ISP-favored plan.
Here's how it works: Under the FCC's new rules, companies that deliver content over the Internet like Netflix, Amazon Instant, YouTube, and even PolicyMic could now pay ISPs for direct access to their customers. Those who don't pay will be treated like all other data, even if they need to relay high-capacity things like streaming video or cloud storage. That means paying companies' content will arrive much faster than content from other Internet companies, who will be stuck in a de facto slow lane. The end result is that companies that can't afford to pay for special treatment will reach fewer people and be at a competitive disadvantage in the marketplace.
Detractors of the new proposal fear that ISPs will simply charge escalating fees for direct access and continue to stall upgrading their outdated communications infrastructure, meaning slow lanes will end up even further behind the fast lanes. Further opposition to such agreements stems from the widespread perception that rich, established companies will be able to wall off the market, preventing competitors that would need to send large amounts of data from entering the market.
Arstechnica reports that two protesters were led out of the meeting after disrupting proceedings. Mass protests both outside the commission's offices and online coincided with the vote.
The background: The new rules are an attempt at making both sides happy. From FCC Chairman Tom Wheeler's viewpoint, ISPs will make more money and other services shouldn't have to worry about getting throttled. But it's pretty much a failure and could expose consumers to even more abuse, favoring ISPs far more than the previous set of rules. And in an age where ISPs are consolidating, this could be really bad for the consumer.
As Business Insider's Steve Kovach explains:
There's a lot of consolidation happening in the industry. If and when Comcast gets approval from the Department of Justice to buy Time Warner Cable for $45 billion, it'll control 30% of the country's broadband Internet and cable TV access. AT&T is also closing in on a deal to buy DirecTV for $50 billion.
Comcast itself is a content provider thanks to its acquisition of NBC Universal a few years ago. Giving it and other ISPs the freedom to favor their own streaming content over other services is again harmful to competition and could likely result in higher prices for you.
At the same time that ISPs want to extract more tolls from the Internet, they're making record profits and rapidly slowing down their investments in infrastructure. In an age where everyone is sending more data, ISPs are refusing to upgrade, with $17.65 billion in infrastructure improvements in 2005-2007 slowing to $12.24 billion from 2009-2013.
These issues are fundamentally connected to things like the infamous Netflix peering deals with Comcast and other ISPs. As Level 3 Communications' Michael Mooney wrote earlier this year, the way ISPs are approaching content producers is nothing short of a shakedown:
Some ISPs, however, have refused to augment their networks UNLESS the content providers they connect to agree to pay them to do so ... Some ISPs agree to augment capacity on reasonable terms.  But other ISPs try to strong arm the content providers into paying by playing a game of 'chicken' with the Internet. These ISPs break the Internet by refusing to increase the size of their networks unless their tolls are paid. These ISPs are placing a bet that because content providers have no other way to get their content to the ISPs' subscribers, that they will cave in and start paying them.
Why you should care: The proposed regulations will directly affect you, both in how you access the Internet and what services you'll have access to in the future.
The new laws are likely to happen but not set in stone, yet. The FCC is seeking commentary from the public thanks to widespread protests against its vision of the law, and will accept initial comments from May 15-July 15 and reply to them until September 10 on its website. Wheeler says that depending on the reaction from the general public, the commission could choose whether or not to pursue this vision of the Internet.