The 11 Most Viral Images From the Week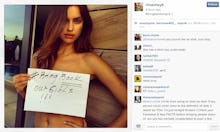 Here's the week that was — in pictures.
1. You can take Jill Abramson out of the fight...
But you can't take the fight out of Jill Abramson. Though the former top editor of the New York Times was ousted from her position this week, she is picking up a "badass new hobby," as her daughter noted.
2. Pain and anger
Wednesday marked the biggest mining disaster in Turkey's history, with around 300 people dead. The tragedy comes at a precarious moment when the country's political climate is already in turmoil, and angry demonstrators have taken to the streets to protest against lax safety standards that led to the disaster.
3. A chilling hostage video
This week, Boko Haram finally released video of the missing Nigerian schoolgirls in an attempt to swap hostages. The Nigerian government has a large number of militants in custody, while around 223 girls are estimated to be held by the terrorist group.
4. Slacktivism at its worst
In related news, hashtag activism already gets a bad rep, but model Irina Shayk didn't help matters this week when she posted this questionable contribution to the #BringBackOurGirls campaign. While raising awareness is nice, posing shirtless in support of kidnapped girls who are being threatened with sexual slavery is not quite the most thoughtful gesture.
5. Time to reexamine school spirit
The latest issue of Time is tackling the college rape epidemic head-on with this striking cover. The U.S.-only edition will hit newsstands this weekend.
6. Graffiti vigilantism
Image Credit: The Bwog
Speaking of which, female students at Columbia became vigilantes this week, scribbling the names of alleged student rapists on multiple bathroom stalls throughout campus to protest the school's record on dealing with sexual assault. The school didn't comment on the allegations, but did remove the graffiti.
7. Take that, cat haters
Image Credit: Imgur
Meet Hero Cat. Tara, a brave feline, made headlines this week when she chased away a neighbor's aggressive dog — and saved her 4-year-old owner, Jeremy. "Tara is my hero," Jeremy said afterwards. Try not to aww.
8. No happy meals here
Thursday marked the biggest fast food strike in history, with workers in 150 U.S. cities and more than 30 different countries protesting for higher wages... and destroying Ronald McDonald's image.
9. #SolangeGate
It was the purse smack heard around the world. By now, everyone's seen the grainy footage of Solange Knowles attacking her brother-in-law Jay Z in an elevator, but the picture above is just as illuminating: the trio of music stars exiting the infamous elevator post-fight, with Beyoncé serene and smiling in the middle. 
"Jay and Solange each assume their share of responsibility for what has occurred. They both acknowledge their role in this private matter that has played out in the public. They both have apologized to each other and we have moved forward as a united family," the family said in a statement on Thursday.
10. Bad publicity
Image Credit: Twitter
D.C. metro is allowing this offensive anti-Muslim ad to be plastered on its buses. The ads have been paid for by known bigots, but hey, money is money, right?
11. A new Phantom for a new era
Theater vet Norm Lewis made history this week when he became the first African-American actor to tackle the title role of The Phantom of the Opera on Broadway. This was a moment 26 years in the making, and the fulfillment of Lewis' lifelong personal dream. We hope he makes great music of the night for a long time to come.