Thousands of Brazilians Are Pushing Back Against the Government's World Cup Plans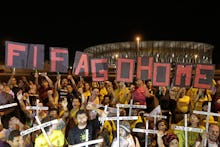 The news: To demonstrate opposition to the upcoming 2014 FIFA World Cup, protests, strikes and direct actions have been sweeping Brazil in massive numbers. Occupying a space next to Arena Corinthians in São Paolo, where the first match will be held, over 10,000 people are protesting in the name of Brazil's Landless Workers Movement (MTST). Around the rest of Brazil, such as in Rio de Janeiro, countless others are organizing smaller protests against the government. 
Their slogan is #NãoVaiTerCopa, or "There will be no Cup." MTST coordinator Maria das Dores Cirqueira summarizes their grievances telling the LA Times, "When the government told us we would host the World Cup, we hoped there would be improvements for us. But they aren't putting on a Cup for the people, they're putting on a Cup for the gringos."
The complaints: The Nation's Dave Zirin summarized the situation by arguing that many of the problems stem from the incorrect, but widely held, assumption that much of the World Cup's "expenditures are for foreign consumption, while the disruption and pain will be shouldered by Brazil's masses." However, Zirin argues that the protests are all linked to "the three D's": displacement, debt and defense, all of which are easy for foreign outsiders to ignore but take a heavy toll on locals.
Already, hundreds of thousands of Brazil's weakest residents have or will be relocated by whatever means necessary (minuscule payment or force). In terms of debt, this will be the most expensive World Cup in history, with a low-estimate price tag of $15 billion. And regarding defense, in addition to new "anti-terror" legislation Brazil is preparing, this will be an extremely heavily guarded event with over 170,000 security personnel — 22% more than South Africa saw in 2010. Unfortunately, this heavy-handed defense will also factor into displacement and debt in Brazil, as "safety" becomes the catch-all justification for President Dilma Rousseff and the ruling Workers Party.
How big are the protests? Just look at the hashtag. These are some serious rallies against major grievances like mass evictions from illegally settled communities to high levels of police brutality.
What's going to happen? Even in the face of harsh criticism, FIFA isn't known for backing down. In response to the problems surrounding the preparations for the 2022 World Cup in Qatar, FIFA president Sepp Blatter recently admitted that the host nation decision was a mistake because of the extreme heat, and not, as Deadspin put it, because of "a World Cup bid process rampant with bribery allegations ... eventually awarding the tournament to a tiny nation unprepared to deliver on its promises and with a labor force that's one giant human rights violation." Slate called Qatar's preparations a "human rights catastrophe." FIFA does not seem particularly concerned about human rights. But the combination of protests and partial unpreparedness could end up seriously embarrassing FIFA and the Brazilian government, damaging relations between the two and perhaps making the international soccer organization think more carefully about its choice of host nations in the future.