The NFL's First Openly Gay Player Just Put His Entire Career in Jeopardy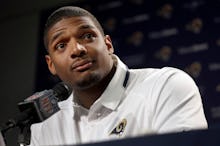 Update: On Friday evening, Oprah's OWN announced, via the St. Louis Post Dispatch, that the Michael Sam documentary would be postponed. This makes sense, given both the backlash that immediately followed the OWN decision, and the (likely) realization on the part of producers that it would be difficult for a seventh-round draft pick who has an uphill battle to make the St. Louis Rams team to continue on with a project like this. Read the original story below.
The news: There's been an interesting twist in the Michael Sam saga.
The former University of Missouri defensive end made history last week when he became the first openly gay player drafted to the NFL. But that was only the beginning. On May 14, the Hollywood Reporter reported that Sam has signed on to star in a "docuseries" (read: reality TV show) about his preparation to earn a spot on the NFL's St. Louis Rams.
Image Credit: AP
The series will be produced by Oprah Winfrey's OWN network: "We are honored that Michael is trusting us with his private journey in this moment that has not only made history but will shape it forever," Winfrey told the Reporter.
The irony of a "private journey" being broadcast to millions of people notwithstanding, Sam believes the project could prove helpful: "[My] focus is on playing football to the very best of my ability," he said. "And if seeing my story helps somebody else accept who they are and to go for their dreams too, that's great."
Image Credit: AP
Sounds nice, right? Not so fast: The announcement has already generated criticism both in and outside the locker room. On Thursday, an unnamed Rams player told Josina Anderson of ESPN that the show "could become an issue."
"It's an interesting case that he gets to work with Oprah and have his own show," the player said. "But I think it does raise eyebrows and it may be somewhat of a distraction."
The article goes on to suggest that Sam might be "alienating teammates" with the perception that he's trying to become a TV star while they're simply "trying to make the roster." As if many of them wouldn't leap at the same opportunity were it an option.
This concern echoes the absurd rhetoric that surrounded Sam being drafted in the first place. And the idea that anything Sam is or does could be a distraction in the already media-saturated NFL is highly questionable.
But perception is nothing to sneeze at. Especially since Sam's NFL fate is still largely out of his hands. As Mediaite explains, rookies — especially those drafted in the 7th round, like Sam — don't typically have their own reality shows. The perception that any draftee, gay or not, is putting himself over the team won't sit well with coaches. As such, Sam's show could damage his career prospects in the long term.
The main irony is that the defensive end once claimed not to be interested in such pursuits. In a Sports Illustrated interview shortly after he came out, Sam said:
"You know, people — the media, of course — are going to make a big deal out of it. It is a big deal, but, you know, I'm just — I have a job to do. My job is to try and play in the NFL. Nothing else."
Not only does his reality show seem to undermine this, he made a special effort to conceal its existence from scouts to avoid harming his draft stock.
Perhaps the most damning critique of all comes from Drew Magary at Deadspin. He claims that by pursuing a reality show, Sam "has chosen the path of every D-list asshole in America" and turned an historic opportunity into a pre-packaged, inevitably manipulated exercise in "self-branding." Much of what he goes through will be rendered hollow and meaningless under the notoriously calculated guidance of reality TV producers.
It seems unfair to single Sam out as a unique disappointment in this respect. But the staging and commodification of his experience does raise valid concerns, one being that he risks becoming just the first openly gay player to be drafted instead of the first to actually play in an NFL game. It seems like a lot to risk.