Michael Sam Just Made History in More Ways Than One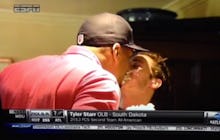 When Missouri grad Michael Sam became the first ever NFL hopeful to come out as gay in February, many believed he was jeopardizing his future right ahead of the most crucial test of his football career — the NFL Draft. Critics said that the biggest pro sport league in the country, the highest platform of vicarious masculinity for most American men, the National Football League wasn't ready for a gay man.
But they were wrong. In a landmark moment for American professional sports, Michael Sam was drafted Saturday night by the St. Louis Rams, a team that plays in a state yet to legalize gay marriage. This decision, the end result of weeks of speculation, may very well represent a key turning point as the march towards LGBT equality moves west and southward across America.
From the beginning, Sam said he wanted to be drafted by a team that wanted him for who he is. But as the draft entered its third and final day Saturday and Sam sat waiting, the defensive end's decision to be open about his sexuality became the subject of open debate. Had he jeopardized his chances by revealing his sexual orientation in a league that, even more than the NBA or Major League Baseball, has long been influenced by its particularly strict code of manliness? Then there was the issue of his lackluster performance at the NFL Combine, the final scouting event with all the college players. Aside from his sexuality, was he skilled enough to get picked up?
Finally, with only a few of the 256 players selected left on Saturday night, one team called the 24-year-old's name. As St. Louis Rams Coach Jeff Fisher told his bosses in the war room "Let's Go Get Michael Sam."
And that's how history was made. Sam became the first openly gay player to be drafted in almost 100 years of the NFL's existence.
Sam, who was anxiously awaiting this moment with his boyfriend and other supporters, got the news by telephone from Rams' coach Fisher. In words that are prescient for a nuber of reasons, the coach told Sam the good news: "You are a Ram. The wait is finally over."
With cameras rolling, the first-team All-American, the 6-foot-2, 260-pounder, celebrated by kissing his boyfriend, a moment ESPN repeatedly rebroadcasted for the rest of their coverage. 
Within 40 minutes of the announcement, Twitter had 110,000 tweets mentioning Miachel Sam or his handle @MikeSamFootball. Celebrities such as Ellen Degeneres and multiple Grammy winner Jon Legend broadcast public congratulations, while organizations like GLAAD and the HRC debuted congratulatory hashtags for the event, including GLAAD's widely used #SamFans tag.
Among the tweets, Patrick Burke founder of the YouCanPlay Project that fights for equality for LGBT athletes noted:
Not everyone was pleased by ESPN's decision. In a sign that there is still much work to be done, former star player Derrick Ward tweeted his displeasure over the televised kiss, complaining: "Man U got little kids lookin at the draft. I can't believe ESPN even allowed that." Still, the overall reaction so far seems to be jubilant. "We're in an age of diversity. Players understand that, they know that," Fisher said later on Saturday. "People will try to make it a distraction, but it's not a distraction."
Former Minnesota Vikings kicker and vocal LGBT advocate Chris Kluwe agreed. "I think people will always find a way to justify their own bad behavior, and it's on the rest of us to call them on it when it happens," Kluwe told PolicyMic. "I think it's a watershed moment because it shows that Michael Sam can be both a football player and an out, gay man. There are plenty of other gay football players out there, at all levels, and now they have someone to look up to as an example."
Interestingly, Sam was drafted by St. Louis, a team that plays in one of the dozens of states that still hasn't legalized gay marriage. Increasingly, the fight for marriage equality has been shifting southward, as states such as Arkansas, Kentucky and Tennessee (all of which surround Missouri) all have wrestled with gay marriage legislation just this weekend. Gay couples were married in Arkansas for the first time over the weekend after a judge ruled that the state's constitutional amendment passed by voters a decade banning gay marriage was "an unconstitutional attempt to narrow the definition of equality." Meanwhile, there is a resolution attempting to overturn Missouri's own longstanding gay marriage ban currently pending in the General Assembly.
While the impact of Sam's selection on political movements is yet to be seen, his impact on the league is assured. By breaking this important barrier, the Missouri player has forged a much easier path for the next openly gay player, which in turn will make the way easier for his predecessor as well.
"I probably may be the first but I won't be the last," Sam, who won the ESPYs Arthur Ashe Courage Award, told ESPN. "And I think only good things will come from this."