Protesters Storm Washington Court House After Outrageous Drunk Driving Ruling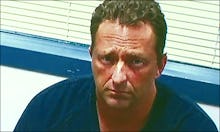 The news: That pesky "affluenza" has claimed yet another victim.
The "richness disease" has struck again in the state of Washington where businessman Shaun Goodman was arrested for his seventh DUI offense last December. Goodman led the police on a high-speed chase and crashed his Ferrari while driving with a blood alcohol content level of 0.16, twice the state limit.
And for all that, Goodman will receive just a year of work release and no jail time. Angry protesters marched on the Thurston Country courthouse Friday to voice their outrage over the verdict. 
The story: Near the end of last year, Goodman left a bar in Olympia, Wash. Afterwards, he drove his Ferrari down the highway in a high-speed chase that approached 100 mph before "crashing into two cars, jumping the curb and eventually careening into the side of a house," reports ThinkProgress. "An unsuspecting passenger who had accepted a ride from Goodman was forced to leap from the moving car as it slowed down approaching an intersection."
The perilous episode led Thurston County Superior Court Judge James Dixon to say this week that, "This is akin to an individual with a loaded gun walking though downtown firing rounds." But apparently for Judge Dixon, "loaded guns" are okay as long as the person pulling the trigger contributes to the economy.
"The judge has said at some point that he's an important businessman in the community, and it wouldn't be fair for him (and) his employees would suffer if he went to real jail," Sam Miller, an angry resident who organized a march on the courthouse, told KOMO News. "And my question is — what about the people that might suffer if he kills somebody?"
And that's not even the end of Goodman's preferential treatment. After Goodman paid his $75,000 bail, Judge Dixon allowed him to fly to New York to enjoy "what may be a once-in-a-lifetime opportunity to see his hometown team play in the Super Bowl." But don't worry, Goodman's request for a separate Las Vegas trip was denied.
How are these people getting away? According to Washington law, anyone with a BAC level above .15 and two to three previous offenses must receive mandatory minimum jail time of 120 days.
If you weren't keeping track, Goodman's BAC level was .16 and he had six previous offenses.
The only exception to this rule is if "the court finds that imprisonment of this mandatory minimum sentence would impose a substantial risk to the offender's physical or mental well-being." In other words: affluenza. Rich people would 1) lose money while in jail, and 2) not handle jail very well and therefore should not go to jail. Of course, that thinking disregards the fact that alcohol-related crashes in the U.S. cost about $51 billion annually. But logic, right?
And all the while, 80% of defendants in the American criminal justice system cannot even afford a lawyer. Don't hold your breath for "povertenza" being used to get low-income people off the hook.