There's an Infuriating Trend Happening at Colleges Across America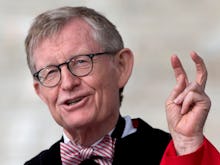 The news: Something very strange is happening to the finances at the United State's public universities. The salaries of the country's top 25 highest-paid university presidents are rising at alarming rates, this while student debt at those same schools is getting worse than ever.
According to a new report published by the progressive think tank Institute for Policy Studies, the student debt crisis is worse at the 25 state schools with the highest-paid presidents. More damning: The sharpest rise in student debt occurred when executive compensation soared the highest. The authors of the study concluded that at the 25 universities, executive compensation surpassed scholarship-spending by a ratio of more than two to one. These schools are also employing fewer permanent faculty members in favor of part-time adjunct faculty, for whom salaries are much lower and benefits often aren't required. 
Student debt across the country is soaring — the 2014 college grads were just named "the most indebted class ever." Even worse, U.S. universities are raking in lump sums of cash. In 2012, public institutions collected $62.6 billion in tuition alone. 
"The high executive pay obviously isn't the direct cause of higher student debt, or cuts in labor spending," Marjorie Wood, the co-author of the report, told the New York Times. "But if you think about it in terms of the allocation of resources, it does seem to be the tip of a very large iceberg, with universities that have top-heavy executive spending also having more adjuncts, more tuition increases and more administrative spending."
Crunching the numbers: When you really dig into the data, there are a slew of shocking facts about college spending. For example, the Chronicle of Higher Education found that nine university executives earned more than $1 million in the 2013 fiscal year, up from four in 2012 and three in 2011. 
The IPS report says that from 2009 to 2012, executive compensation at public universities increased by 14% to an average of $544,554 and presidential compensation at the highest-paying universities was $974,006. Preliminary signs indicate that the pattern will continue to gain momentum from 2012 on. 
Ohio State University tops the list of 25 schools for the "most unequal" expenditures. In the 2013 fiscal year, Ohio State President E. Gordon Gee received $6.05 million overall. Meanwhile, from 2010-'12, his institution hired just 45 permanent faculty members and 498 part-time, contract-based faculty. Penn State, the University of Washington, University of Michigan and University of Minnesota were also in the other top spots of the unequal spending list. 
University spending breakdown: 
Image Credit: Radio Open Source
As the graph above demonstrates, tuition and state appropriations make up a large percent of a public university's overall income. In 2012, student loan debt surpassed an unprecedented $1 trillion; university tuition is one of the main reasons students take out loans.  
Image Credit: Radio Open Source
At public institutions, instruction is the largest expenditure — that includes both full-time and adjunct faculty members. Only 4% of public college income goes towards scholarships and fellowships, helping to partially explain the student debt loan crisis. 
Increasing presidential salaries is clearly not the sole contributing factor to public university students' swollen financial woes. Yet, the IPS's study proves that there is an intrinsic link between ascending compensation at these universities and worsening student debt.