Why 'True Detective' Is the Perfect Show for a Strong Female Lead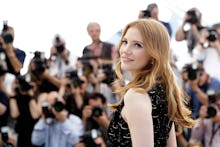 Rumors are in full-swing that the second season of True Detective will be anchored by an actress. For a show whose critically-acclaimed first season was often criticized for its gender perspective, this news is big. 
Emily Nussbaum at The New Yorker concisely summed up one side of the Season 1 debate, calling the show's female characters, "Wives and sluts and daughters — none with any interior life."
The other side of the debate noted the sexism but chalked it up to deliberateness. As critic Willa Paskin said at Slate, "When it comes to women, True Detective is undeniably shallow — but I think it's being shallow on purpose." Purposeful or not, with rumors flying that Jessica Chastain may lead the show's second season, the True Detective gender conversation just opened a brand new Pandora's box.  
According to rumors via Nerdist, Chastain was offered the Season 2 lead. Nerdist reports, "According to sources, the Zero Dark Thirty actress has been offered a leading role in the second season but has yet to accept."
In an email exchange with The Wrap, Chastain's representative added fuel to this casting mystery fire saying, "I can tell you she's not doing this project officially." This cryptic answer can be interpreted to mean either she's not involved or she's not officially involved as of yet.
A story from E! holds firm that the Chastain rumors aren't true, and that representatives for the actress confirmed she wasn't doing the series. Whether or not Chastain is taking on a True Detective role is almost secondary, the real intrigue being what Season 2 would look like with a strong female character at its heart. 
A woman anchoring Season 2 is in keeping with rumblings from the show's writer/creator Nic Pizzolatto. Pizzolatto told HitFix in an interview that Season 2 would be about "hard women, bad men and the secret occult history of the United States transportation system." Note, that list is lead by "hard women."
Also, a tweet posted by Pizzolatto back in February suggested that the next season of True Detective would focus on a female story. In the tweet, now deleted, Pizzolatto replied to this tweet from a fan:
Pizzolatto's reply read:
@friggenaweome One of the detriments of only have two POV characters, both men (a structural necessity.) Next season... - @nicpizzolatto 
In an interview with BuzzFeed Pizzolatto commented on his deleted tweet saying, "I deleted the tweet because I didn't want to be beholden to a promise and then change my mind. I'm writing Season 2 right now, but I don't want to divulge any potentialities, because so much could change. I just never want to create from a place of critical placation — that's a dead zone. So I don't want, for instance, a gender-bias-critique to influence what I do." 
For a woman — or, dare we dream, two women — to anchor True Detective would be an inspired revision of the dark buddy detective series. If Chastain is indeed taking her big screen talents to the small screen would also be a coup for HBO. Chastain is right in the thick of big back-to-back movies, including this year's promised hit Interstellar — which coincidentally co-stars Matthew McConaughey. She is also getting solid reviews at Cannes and has an upcoming film in which she stars as Marilyn Monroe. All on the heels, of course, of an Oscar nomination for Zero Dark Thirty.
To have a tough-as-nails woman — like Chastain — helm the series would be not just be a crowd pleaser, it would be the continuation of an ongoing tradition of women paving the road for television detective dramas. Gillian Anderson's portrayal of Agent Scully on X-Files set the modern tone for TV's crime fighting women, moving them from the Charlie's Angels territory to the darker, grittier setting of today's crime solvers. A True Detective female lead would thematically follow in the footsteps of Scully and even Mariska Hagerty's portrayal of Olivia Benson on Law & Order: Special Victims Unit, the popular TV crime procedural that has been shaped and defined in part by Hagerty's forceful performance.
For all of Season 1, True Detective's women were in the shadows, so shining the spotlight on them for Season 2 would be an inspired twist on what rounded out to be a brilliant bro-tale. With rumors of Brad Pitt also joining for Season 2, there is a lot to think about. Though with the possibility of a woman anchoring the show, the fan outcry will likely be for the series to this time be fronted by not one but two women.
Let the dream casting continue.