Here's the Lead Actor Rumored to Replace Matthew McConaughey in 'True Detective'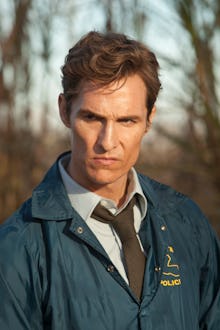 The news: When Hit Fix asked True Detective creator Nic Pizzolatto what he had lined up for season two, he responded with one sentence:
"This is really early, but I'll tell you (it's about) hard women, bad men and the secret occult history of the United States transportation system."
Not much for fans to go on. But according to Hollywood Life, we may have a leading candidate for one of the new season's "bad men" (or possibly "hard women"?): Academy Award-winning producer and occasional movie star Brad Pitt.
Image Credit: Galbite
"Brad's name has come up many times, it's just a matter of what his other commitments are," an unidentified insider told the site. "It's the show everyone wants to be on, because the writing and the roles are just so exquisite and complex. Brad has tight relations with HBO — he teamed up with Ryan Murphy last year to produce the HBO movie The Normal Heart. I know everyone would be thrilled to have him onboard."
Pitt is no stranger to playing a haunted cop, having already lost his head (pun intended) as Det. David Mills in David Fincher's Seven (1995).
This is one of the more concrete rumors fans have been privy to thus far. Assuming Pitt is cast as one of the presumed two lead investigators, Pizzolatto has hinted that the other could be a woman. In a now-deleted tweet, the writer responded to this:
… with this (according to Grantland):
"@friggenawesome One of the detriments of only having two POV characters, both men (a structural necessity). Next season…
- Nic Pizzolatto (@nicpizzolatto) February 23, 2014"
He has since recanted, telling BuzzFeed he deleted the tweet because he "didn't want to be beholden to a promise and then change [his] mind." He added: "I'm writing Season 2 right now, but I don't want to divulge any potentialities, because so much could change. I just never want to create from a place of critical placation — that's a dead zone."
More rumors, please! Grantland staff writer Tess Lynch has speculated that "the secret occult history of the United States transportation system" may refer to the shutdown of Route 66, the legendary highway that once connected hundreds of small towns and big cities between Chicago and Santa Monica, Calif. In 1974, a group of "merchants and civic leaders" dedicated to "the creation and maintenance of the 2,448-mile-long highway" – known as the Main Street of America Association – disbanded. Considering season one's preoccupation with the secret activities of powerful people, might this group and Route 66 be fertile ground for mining inspiration?
Image Credit: River Pilot
We'll just have to wait and see.
A brilliant nightmare: True Detective took television by storm this winter, entangling all manner of fans in its haunting web of mystery, philosophy and the occult. It earned near-universal acclaim for the shell-shocked performance of Matthew McConaughey and the emotionally volatile turn of Woody Harrelson. Cary Joji Fukunaga, who helmed all eight episodes, drew accolades for his stylish direction, notably for the mesmerizing six-minute tracking shot that concluded episode four.
The series is famously structured as isolated and presumably unrelated storylines, with the entire cast and plot changing from one season to the next. The only constant is writer and creator Nic Pizzolatto.
And with the excitement generated by the Brad Pitt rumor, fans are anxiously awaiting was he has in store next.