Everything You Need to Know About Thailand's Declaration of Martial Law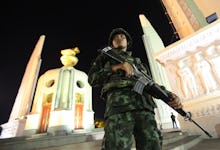 Martial law 101: The Royal Thai Army invoked martial law early Tuesday morning, blindsiding Thailand's interim Prime Minister Niwatthamrong Boonsongphaisan. The announcement gives "virtually unlimited powers to control the situation, and effectively suspend civil rights guarantees(sic) in the constitution," according to IFEX.  
If it looks like a war or riots are going to break out, Thailand's martial law gives military officers the power to censor information, enforce curfews, arrest and detain suspects for a maximum of seven days and possibly worst of all, "prohibit public gatherings, publications, broadcasting, transport, communication, travel, the movement of people or any action that the Defence Ministry deems necessary." And that's just a few of the regulations included in 1914's Martial Law, B.E. 2457.
Why is the army being granted such ample powers? Commander-in-Chief of the Royal Thai Army General Prayuth Chan-Ocha explained that the military wants to prevent further violence, to maintain peace and order and to protect lives and properties. But so far, the law has been mostly used to prevent harsh criticism of the army, which is being enforced by the Peace and Order Maintaining Command (POMC).
General Prayuth maintains that not every one of the restrictions and guidelines outlined by martial law will be applied "so as to minimize restrictions on human rights and fundamental freedom of expressions," according to the Ministry of Foreign Affairs of the Kingdom of Thailand.  
Image Credit: AP
Yet, shortly after the army's declaration, soldiers were in place to monitor and enforce enclosures of several newsrooms and media offices. More than a dozen cable and satellite news outlets have been shut down as well as various radio channels. 
Armed forces have also been stationed at shopping malls, protest sites and important intersections even though the situation on the streets is relatively calm. There hasn't been any violence so far, but supporters of the populist government, aka the "red shirts," are surrounded by soldiers on the outskirts of Bangkok. 
Image Credit: AP
A briefing on Thailand's political conflict: 1932 marked the end of Thailand's absolute monarchy. But since then, Thailand has been wrought with turmoil and various coups. Most recently, Thailand's Constitutional Court ousted Prime Minister Yingluck Shinawatra, leading to another caretaker official to govern in her place: Prime Minister Boonsongphaisan. 
The politics of the situation are driven by a divide between an urban elite and middle class with alliances to the royal establishment, and the mainly rural and poor populists. 
What may happen now? Prior to General Chan-Ocha's enforcement of the law, he said he was interested in getting the two rivaling parties to peacefully talk. Currently, it is unclear if negotiations are still an option.
Thailand's King Bhumibol Adulyadej is the world's longest-serving (and richest) monarch and has the power to rescind martial law by royal decree, but General Chan-Ocha has said he plans to revoke the martial law in place when peace and order are restored. The country had elections scheduled for July 20 but with a suspected coup erupting, it's unclear who's really in charge of Thailand right now.