The West Loves the Story of Iran's Jailed 'Happy' Dancers For All the Wrong Reasons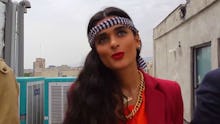 When there's slow movement on the hashtag battlefield, you can always count on a story about Muslim women and headscarves to pick up the pace.
On May 7, in her Radio Free Europe/Radio Liberty column, Golnaz Esfandiari highlighted a Facebook page started by Iranian political journalist (in exile), Masih Alinejad, now called "My Stealthy Freedom." The page features images of various Iranian women defying the national law that dictates women be covered with a headscarf at all times in public.
The story, which has the necessary ingredients of a Western media fantasy, picked up in the English press immediately. Hell, even George Takei shared the story, expressing his awe at "[some] very brave women in Iran ... doing something extraordinary on Facebook." The story is still popping up online, and the Facebook group itself now boasts over 315,000 followers — an incredible increase from its initial few hundred, then few thousand, followers over the course of less than two weeks.
And just this week, attention was turned to Iran once more in the name of freedom of expression. 
A group of young, trendy, Iranians (including three women without their headscarves) were arrested for "indecency" after creating a video of themselves dancing to Pharrell's hit song, "Happy." This story, too, garnered the attention of social media crusaders when news of the arrest broke. The group has now been released.
Iranian laws governing public morality and the possible punishments undoubtedly have a detrimental effect on the citizenry. For women, especially, to be publicly engaging in defiance of laws that limit their expressions of self — as really anywhere — is a risk and feat worth acknowledging.
But there's a self-centered quality of our appetite for these stories. We are uncomfortably selective in our interest in which human rights stories from Iran get our attention.
There's a reason why the "My Stealthy Freedom" page has been lauded as a "silent revolution," and stories of life under the country's crippling sanctions are underreported: These stories reinforce a warped narrative of Iran that is all too familiar in the West.
In response to the kind of coverage this story has received, editors of AJAM Media Collective, Shima Houshyar and Behzad Sarmadi pointed out the trouble with the seductive, oversimplified narrative evident through these stories:
These articles produce simplistic generalizations for the sake of provocative and yet easily digestible reading. They do so by: treating women's bodily surfaces as a measure of societal progress and morality; romanticizing the notion of resistance; and eliding the significance of class and consumer culture in everyday urban life.
Houshyar and Sarmadi also point out that a western audience has a tendency to "romanticize resistance," which only offers solidarity if its "own values and ideals seems apparent in the resistance."
In short, these stories aren't told with the intention of understanding — they're told for the sake of consumption.
Image Credit: YouTube.
That means that the voices that really matter here — Iranian women that actually live with enforced dress codes — are lost in the coverage.
According to Houshyar and Sarmadi, "There is a significant internal conversation and a long history of engagement with the headscarf that is never part of any external conversation on the headscarf in Iran or on Iranian women."
And that internal conversation, about mandatory veiling, is one that should not be dismissed or ignored. As Alinejad noted in an e-mail correspondence with PolicyMic, "[by] the time the international publicity came, [the Facebook page] had already become established in Iranian circles ... with no publicity at all I was getting more than 50 photos a day."
And in a similar vein, the story of the Iranians arrested for making a "Happy" video is a part of a wider conversation on censorship and dissent, or as Houshyar pointed out about the unfolding story on Wednesday:
But these nuances were lost in the online chorus of outrage. That's because our envisioning of Iran and Iranians has been and remains limited to the sorts of issues that redeem our own beliefs and visions of "freedom." The issues and stories that indict us of any complacency and wrongdoing are ignored or justified. When Iranians are the denied the apparent basic human right to make a Pharrell video, we are maddened and disappointed. When Iranians are unable to access basic medical supplies as a result of our sanctions, we don't even know.
Image Credit: AP.
There is a space for solidarity and support that does not situate the external conversation and perspective as the dominant conversation and perspective; that does not create a hierarchy of rights and freedoms. Unfortunately, we still have not quite learned how to find it.