The Media Claims Iranian Actress Leila Hatami Is About to Be Flogged, But Here's the Real Story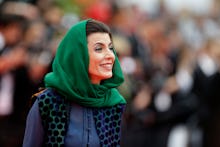 If Western media headlines are anything to judge, the public flogging of award-winning actress Leila Hatami is imminent in her native Iran, after photos emerged of her kissing the Cannes film festival president on the cheek.
"Iran's top actress facing public flogging after she kissed male Cannes film festival boss on the cheek," reported the Daily Mail. 
"The Kiss That Sent Iran Crazy and the Actress in A Separation to Be Flogged in Public," tweeted the Daily Beast.
But contrary to what the headlines say, Hatami isn't facing a public flogging. Let's get some facts straight:
The photo of Hatami — best known for her role in Asghar Farhadi's Academy Award-winning film A Separation — kissing Gilles Jacob on the cheek, did draw criticism from Iranian authorities.
Iran's deputy culture minister Hossein Noushabadi said, "Those who attend international events should take heed of the credibility and chastity of Iranians, so that a bad image of Iranian women will not be demonstrated to the world." He added that Hatami's behavior was "not in line with our religious beliefs," reported Al-Jazeera.
No mention of a public flogging here. The calls that have the Western media up in arms came from a small group of conservative female students seeking legal action against the actress. The students called for Hatami to serve jail time, as well as to receive lashings, according to Iranian website Tasnim News. 
But take this with a grain of salt. The calls of these students are not newsworthy.
Hatami has since apologized for the incident, saying that 83-year-old Jacob forgot the appropriate protocol for greeting her, and added that "he is certainly like an old grandfather who was also my host."
This whole incident is yet another example of how stories from Iran are sensationalized in the Western media. What one group of hardline students believes by no means reflects Iranian society at large.
So what should we make of Noushabadi's comments? It's fairly common for Iranian authorities to make these kinds of statements. Authorities made the same types of comments following the arrest and subsequent release of young Iranians who made a viral video of themselves dancing to Pharrell's "Happy." 
What it all boils down to is keeping up appearances. 
It's not that women don't dance in Iran, or take off their veils, or kiss men — and Iranian authorities are well aware of it. But these comments serve to create the illusion that these things do not occur. Maintaining that chaste image is critical to the regime's strength.
In her book Warring Souls, Iranian-American writer Roxanne Varzi writes, "In a totalitarian state, power is not found in the depth of an individual citizen's belief but in the ability of the state to control the outward behavior and appearance of the individual."
So when this image of Hatami emerged, Westerners might not give it a second thought, but Iranian authorities were committed to making an example of it. But there's no evidence that she would be punished for the kiss. 
Hatami is a high-profile figure, beloved by many in Iran and abroad. If the regime actually attempted to punish the actress, it would cause public outrage. Besides that, Hatami has already paid her penance. She apologized, and thereby righted the tainted image of the regime. And that's what this entire scandal was about.