This Isn't Ukraine or Thailand — 11 Photos Show the Global Protests That Erupted Saturday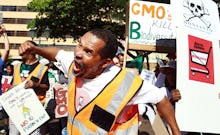 Organizers of the March-Against-Monsanto group saw their plans come to fruition as hundreds of thousands of people around the world took the streets of major global cities Saturday to protest the spread of genetically modified food and raise awareness over biotech giants Monsanto's growing hold of the global food supply. 
Activists on five continents around the globe, comprising 52 nations, came together under the March Against Monsanto umbrella, according to the organization's press release.
"Monsanto's predatory business and corporate agricultural practices threatens their generation's health, fertility and longevity," March Against Monsanto founder Tami Monroe Canal said in the press release. "MAM supports a sustainable food production system. We must act now to stop GMOs and harmful pesticides."
Through various social media efforts — including a recently popular #EndMonsanto Twitter trend — MAM organized what's believed to be the largest of their global demonstrations thus far, with people in over 400 cities participating. 
Though there is still some debate over the real dangers of GMO foods, concern over Monsanto's growing power and control of the food supply chain has been common. Founded in 1901, Monsanto is a $20 billion business and a leading producer of genetically engineered seed and of herbicideglyphosate, known commercially as Roundup.
"People often ask me 'Why Monsanto?'" wrote food justice advocate Dr. Vandana Shiva in a statement on the march. "My response is, we did not choose to target Monsanto. Monsanto chose to target our seed and food freedom, our scientific and democratic institutions, our very lives."
"Monsanto wants superprofits through total control over nature and humanity," Shiva continued. "The greed and violence of one corporation cannot be allowed to destroy life on Earth, the lives of our farmers, the lives of our children. That is why we March Against Monsanto."
According to Google Maps, here's where the officially organized protests took place Saturday:
Image Credit: Google Maps
And here's a small taste of some of the many marches from around the world Saturday.
1. Mexico City, Mexico
2. Milwaukee, Wisconsin
3. Durban, South Africa
4. Mexico City, Mexico
5. Mexico City, Mexico
6. Durban, South Africa
7. Mexico City, Mexico
8. Mexico City, Mexico
9. New York, New York
10. New York, New York
11. Toronto, Canada