A World Heavyweight Boxing Champion Was Just Elected Mayor of Kiev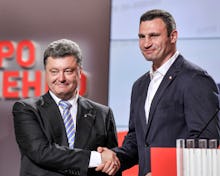 Vitali Klitschko rose to fame and fortune over nearly two decades in the boxing ring, where a man can be killed by his opponents' hands but cannot legally be murdered.
But one of the most dominant heavyweight champions in the sport's history scored a crucial victory in an even more perilous arena this weekend, when he was elected mayor of Kiev after winning 57% of the vote.
Klitschko, the WBC heavyweight champion who vacated his title in December to focus on politics, had initially announced his candidacy for the Ukrainian presidency but later withdrew and endorsed Petro Poroshenko, the chocolate tycoon and pro-EU billionaire who was elected president.
As the leader of the government opposition UDAR party in Ukraine's parliament, the 42-year-old Klitschko has campaigned for reform and to align the nation economically with the EU rather than Russia. He now takes responsibility for the Maidan, central Kiev's Independence Square, which served as the central hub of the protests that ousted former president Viktor Yanukovych in February.
"The main task of the Maidan has been achieved: We were saved from dictatorship," Klitschko said Monday during a joint press conference alongside Poroshenko. "The barricades have fulfilled their function and must now be removed."
Klitschko had been one of the three dominant leaders of the Maidan protests and could often be spotted on the front lines as the unrest commanded international attention earlier this year. Images of the former champion getting sprayed by a fire extinguisher during the two-month standoff went viral in January.
Klitschko, who had not defended his championship since a fourth-round knockout of Manuel Charr in September 2012, vacated his heavyweight title in December. The World Boxing Council named him "champion emeritus," meaning he would automatically be granted a shot at the title if he decides to return to boxing.
But his triumph in Sunday's election makes a comeback unlikely.
"Vitali Klitschko is fighting the fight of his life, this time outside the ring," WBC president Mauricio Sulaiman said in December. "Vitali is showing to the world what is the true heart of a champion by leading his countrymen to battle in the streets in their search of human equality, rights and peace for the great country of the Ukraine."
Klitschko (45-2, 41 KOs) walks away as one of the greatest big men in boxing history and, despite the dearth of competition in the division for most of his career, rates among the 20 greatest heavyweights of all time. At 6 feet 7 inches and 250 pounds, he was an imposing physical specimen who was never knocked down in his professional career, and who boasts the second highest knockout rate of any heavyweight champion (87.2%), behind only Rocky Marciano.
It's not a stretch to suggest he would have retired undefeated if not for misfortune with injuries. Both losses on his record, including a memorable 2003 scrap with Lennox Lewis, came on injury stoppages while Klitschko was ahead on the scorecards.
Vitali combined with younger brother Wladimir (the current WBA, IBF and WBO heavyweight champion) to hold the heavyweight title of every major sanctioning body. Their understandable refusal to fight one another and consolidate those belts has precluded boxing from having a singular, unified heavyweight champion, a factor that has undercut the sport's popularity in America. Yet the brothers, who both have Ph.D.s and speak four languages, have remained consummate sportsmen and superior role models.
Image Credit: Getty Images
Klitschko's political career began in 2004 when he became an ally of the pro-democracy Orange Revolution. He was elected to the city council in Kiev, later becoming an advisor to former President Viktor Yushchenko. A bold anti-corruption campaign landed him on the Kiev city council in 2006, a victory that lent momentum to his political ambitions.
Pundits say Klitschko's position offers an ideal foundation for a future presidential run.
"These elections are very important for Klitschko," said Ukrainian political analyst Volodymyr Fesenko. "His success on this job will determine his political future."