7 Things to Get You Caught Up After the Long Weekend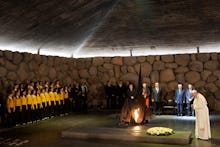 Here's the weekend that was, in pictures.
1. Mass murder in California.
If you still needed proof misogyny kills, this is it. Woman-hating Santa Barbara, Calif., man Elliot Rodger, 22, killed himself Friday night after an armed rampage and car chase that left six innocent people dead. In his lengthy manifesto, Rodger wrote that "I will destroy all women because I can never have them" and cited "blonde girls" from the Alpha Phi sorority at the University of California, Santa Barbara.
This particular shooting has driven political rage against two targets: the pick-up artist community and the gun lobby. Rodgers was a failed pick-up artist and a member of anti-PUA board PUAHate.com, a misogyny-filled Internet craphole where men raged about their inability to score with women. (The pickup community's response to the shooting was horrible as well.) And a heartbreaking video from one victim's father blamed the shooting on "craven, irresponsible politicians and the NRA."
The hashtag #yesallwomen emerged in response to the murders in an attempt to overpower the voices blaming women for Rodger's rampage.
2. Pope Francis made history in Israel and Palestine.
The pontiff made big news across the Atlantic in the past few days by visiting a barrier wall in the town of Bethlehem separating Israelis and Palestinians — and actually praying briefly against it under the eye of an Israeli watchtower. Francis publicly disagreed with Israeli Prime Minister Benjamin Netanyahu at least twice as well.
Then, the pontiff asked both Israeli President Shimon Peres and Palestinian Authority leader Mahmoud Abbas to join him at the Vatican for prayer — a clear attempt to try and restart joint negotiations a month after American efforts stalled a month ago.
3. Fascists and the far right win in Europe.
Euroskeptic, far-right and fascist parties won big in elections to the European parliament, with the UK's Independence Party and the French National Front both performing strongly. Outgoing European Commission president Jose Manuel Barroso stressed that EU still had a "very solid and workable majority" of moderates.
Exuberant National Front leader Marine Le Pen told crowds that "[t]he people have spoken loud and clear. They no longer want to be led by those outside our borders, by EU commissioners and technocrats who are unelected. They want to be protected from globalization and take back the reins of their destiny." His party could have as many as 25 seats, up from three in 2009.
4. Ukraine gets a "Chocolate King."
In Ukraine's presidential election, held on Sunday, former chocolate tycoon and pro-EU billionaire Petro Poro­shenko took a strong lead and finished with more than 55% of the vote. Former prime minister Yulia Tymoshenko lost, with just 12–15% of the vote. Far-right parties did very poorly.
Pro-Russian separatists in the eastern sector of the country disrupted elections, "with many polling stations shuttered, ballots stolen, and election officials threatened and even kidnapped." Many voted to secede during a May 11 ballot, rejecting the authority of the government in Kiev.
5. New York Post slams Kimye.
Kim Kardashian and Kanye West's wedding was slammed (duh) by the New York Post, which chose to forgo the usual coverage for a few paragraphs of self-satisfied coverage where they call the two "jackasses." Or so they'd like you to think, as the Twitter user above noted.
6. Memorial Day marred by growing scandal.
It's Memorial Day! And just as reports of a scandal at the Veterans Affairs Department hit the Arizona Republic last month.
As many as 40 veterans died while waiting for treatment at a VA facility there, and similar accusations have followed in Georgia, Texas, Florida and Pennsylvania. Staff at the VA reportedly doctored forms to make it look like they were meeting VA standards for care.
In other news, the VA and the Los Angeles County morgue have resolved the mystery of why unburied veterans are stacking up in their freezers: It's each other's fault.
7. White House mistakenly outs CIA chief in Afghanistan.
Well... whoops.