ABC's 'Nashville' Is Actually Saving Country Music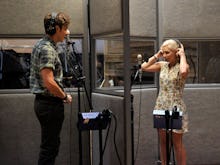 We all know this drama that ABC conjured up is supposed to reflect what it's like in the Nashville music scene. It's apparently full of rivalries, political deviousness and forbidden love. That may well be true, but there's one other big difference between Nashville and Nashville. Their version of country music is way better than what passes for country now.
But slowly their fiction is becoming country's reality. The songs of Nashville are topping the iTunes charts, broadcasting a new face of what many people across the globe consider country music. While a lot of critics have called the music more rootsy and less country, the show is nonetheless shaping musical perspectives and expectations of the genre, refocusing it more on quality songwriting and real storytelling and less on bros.
With as many as six songs per episode, ABC needs to buy a lot of songs. They've taken some of the greatest indie writers (and some lesser-known legends) and are jolting their careers while tweaking the face and sound of modern country. Here are seven of the greats.
1. Caitlin Rose
Caitlin Rose has long been headlining the old country revolution in modern indie country. She draws from Patsy Cline, Linda Ronstadt and Bob Dylan, effectively merging the beauty of folk with the stories and grit of classic country. Rose's sophomore album, The Stand-In, was released in February 2013, and she quickly drew attention from Pitchfork, NPR, Rolling Stone, and Time. Her song "Waitin'" was later featured on Nashville in October, shortly before her album placed 25th on Spin's 50 Best Albums of 2013. 
Rose admits that some of her songs are about her own life, bringing a vulnerable and sultry quality to "Waitin'" and a certain honesty to the show, even if the truth behind the song isn't quite as sultry as ABC made it out to be. The lyrics are about coming to terms with someone who has maybe deliberately broken your heart — perhaps a subtle yet not-so-subtle message from Scarlett to Will?
2. Elvis Costello
Longtime maestro Elvis Costello is as relevant today as he was in the 1970s, and Nashville's reintroduction is timely and necessary. Costello began his career as a bridge between iconic acts Bob Dylan and Van Morrison. Today he's a bridge between country and Americana that Nashville (sometimes unintentionally) encompasses. 
Costello has a career as long as Miley's tongue. He's done punk, rock'n'roll, country, pop and orchestral albums, all with the nonchalant attitude that drips from songs like "Twist of Barbwire." which Nashville's Will Avery Barkley, the token bad boy, performs. It's both ironic and perfect that Costello, the original punk bridge-maker, penned the track.
3. Lucinda Williams
ABC didn't need to hire writers to create Rayna James' character — they only needed to read Lucinda Williams' bio. Her deep, raw voice and strong yet vulnerable lyrics prove she's the badass country vocalist that Rayna only dreams she could be. 
Williams is known for her ability to mix blues, rock and country. She's also famous for her perfectionism as a hit maker, so it's no wonder that her song "Bitter Memory" was used in the CMAs scene where Rayna and real-life Brad Paisley perform for a huge audience. The Nashville version was produced by the Black Keys' Dan Auerbach, which didn't hurt.   
4. Kacey Musgraves
Like Caitlin Rose, Kacey Musgraves is mastering the commercial side of country while maintaining some major indie credibility. But if Rose is leading a country revival, Musgraves is handling the Top 40. This lady is the new face of pop country, and the Nashville appearance of her song "Undermine," cowritten with Trent Dabbs, is only fueling her momentum.
Nashville capitalized on the song's tension to play up the drama in both Rayna and Julliette's personal lives. The song has since earned reviews as album-worthy and standout. As an artist with the range to open for both Katy Perry and Willie Nelson, it's no wonder she's on Elle's list of Women in Music this year — she's changing the industry. 
5. Kate York
Whether you need a power ballad or just a regular old ballad, Kate York is the master of emotion. Nashville has featured nine of her songs throughout its first two seasons. Nine. Besides the hefty song cred, York and her cowriter Sarah Buxton's Nashville featured song, "Nothing in This World Will Ever Break my Heart Again," was nominated for an Emmy in the outstanding original music and lyrics category.
Four of those nine songs, including the aforementioned, were performed by the Juliette Barns character, but York even performed in her Emmy-nominated song's scene as a backup singer. She's got the show's rootsy yet poppy vibe that the Nashville producers are aiming for, plus she's BFFs with Hayden Panettiere. (Okay, they've hung out a few times. But still, that's awesome.)
6. Hillary Lindsey
Seeing as Lindsey Lohan, Bon Jovi and Carrie Underwood are all vying for a Hillary Lindsey song, it's safe to say she's making it. Churning out mega-hits for platinum stars is what she does on a daily basis, and she's already won a Golden Globe and an Academy Award nomination for her song "Coming Home," featured in Country Strong. 
Nashville used Lindsey's "Telescope" as a vengeance song from Juliette to a cheating lover. Though it received decent reviews, it didn't get as much attention as some of her other mega hists, such as "Jesus Take the Wheel," which she cowrote with Brett James and Gordie Sampson. Still, you can hear the hitmaker's unmistakably artful DNA.
7. Sarah Zimmermann and Justin Davis
The duo, referred to as Striking Matches, met in college on a group assignment in 2010, then released their debut self-titled album less than two years later. Almost immediately, their song "When The Right One Comes Along" was featured on Nashville. They soon began touring across the nation, played for Nashville's Season 2 premier party, and have performed at the Grand Ole Opry more than 15 times since.
The duo originally met and performed for Nashville's music producer, Frankie Pine, when she and her team were leaving town and on their way to the airport. As Pine puts it, "They were the two greatest — they probably played like four songs for us and we loved every single one of them." Zimmermann and Davis' song "When The Right One Comes Along" was used to capture the tension, entanglement and longing between characters Scarlett and Gunner, which obviously led to an epic kiss scene. The duo has been writing together for three years now, and it's clear that they have mastered the ability to connect with the listener through their steady performances, simple melodies and well-crafted lyrics.