35 Men Show Us What Real Men's Activists Look Like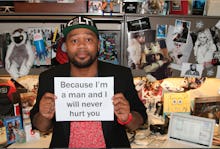 The shootings in Isla Vista, Calif., sent chills down the backs of countless Americans over Memorial Day weekend. Although this isn't the first mass shooting that has semblances of misogyny (in fact, a great many do), the 140-page manifesto of pure hatred against women and the YouTube video detailing Elliot Rodger's plans to slaughter "blond sluts" was a gruesome wake-up call for all of us.
How could an educated and privileged 22-year-old still believe that women should be in "concentration camps," stop having control over procreation and deserve to be killed because they have sexual agency? 
But while Rodger's ideology may have been extreme, it was also frighteningly familiar. The way that we talk about women and the entitlement others have over their bodies is nothing new.
Whether it's in the way that women are blamed for their sexual harassment (grow a thicker skin, don't walk around wearing that), their rape (don't drink, keep your carry keys in your hands, don't stay out late) or their family planning outcomes (control your libido), there is nothing like the female body to bring out misogynistic entitlement at its worst. 
Indeed, the shooting is not an isolated act of violence. The beliefs that motivated the gunman are rampant — and much more widely accepted then many would believe. In our culture, misogyny isn't the exception, it's still the rule.
In the wake of the tragedy, the hashtag #YesAllWomen quickly became a safe space of support and solidarity, a platform to share stories and fight back against the types of comments that too many women have encountered in their life. It also became a space for women to explain that entitlement of men over women has got to stop — sexism has got to stop — because it is literally killing us.
Ultimately, the #YesAllWomen rallying cry reached more than 1 million tweets in the days since the tragedy, outlasting even Kim Kardashian's wedding on Sunday. But women are not the only ones frustrated by our society's institutionalized misogyny. So many men, too, reported feeling disgusted by the attitudes of the shooter and his alleged peers, the "men's rights activists" that not only influenced Rodger, but publicly predicted more violence if men aren't given what they want.
Men deserve their own space to talk back to these "activists." Here is just a small part of that response, but you can find more responses or post your own on the hashtag #AllMenCan, because all men can have respect for women without ever becoming less of a man.
1.
2.
3.
4.
Quote by Chris Lewarne.
5.
6.
Quote by Chris Lewarne.
7.
8.
9.
10.
Quote by Chris Lewarne.
11.
"The term 'real men' has become so fraught, and using it is layered with so many different meanings. But since anti-feminists believe that pro-feminist men cannot be real men, we decided take back the notion that supporting women's equality does not in any way diminish our manhood. For both Zachary and myself, supporting gender equality begins at home, with our relationships to my wife/his mother. It's about the way we treat our friends and families — and how we treat each other as guys."
-Michael Kimmel, executive director, Center for the Study of Men and Masculinities and his son Zachary
12.
13.
14.
15.
16.
17.
18.
19.
20.
21.
22.
23.
24.
25.
26.
27.
28.
29.
30.
31.
32.
33.
34.
What do you think men can do? Use the #AllMenCan hashtag to make your voice heard.
35.
Editor's Note (05/31/2014): The photos is in this article have been modified and the title has been edited to reflect the change.