The Drunkest State in America Isn't the One You Would Expect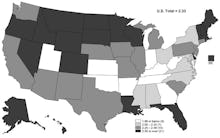 The news: America's drunkest state isn't a college spring break spot, but rather a quiet skiing destination.
According to a new report by the National Institute on Alcohol Abuse and Alcoholism (NIAAA), the hardest-drinking state turns out to be New Hampshire.
The study calculated per capita consumption of ethanol from alcoholic beverages and found that the average New Hampshire resident consumed 4.65 gallons in 2012 — nearly twice the national average of 2.33 gallons. Among the New England states, Connecticut was the only one that didn't make the top 20 list for per capita alcohol consumption.
Image Credit: National Institute on Alcohol Abuse and Alcoholism
Alaska, Louisiana, Florida, Delaware and Washington, D.C. are all big drinking regions, as are the Northern states, with the average resident consuming over 2.5 gallons of ethanol in alcohol per year. The NIAAA report also found that overall, per capita ethanol consumption increased by 2.2% — only seven states experienced a decrease.
An anomaly: The United States has a big drinking population, but it's not as big as you might think. According to the CDC, 51.3% people over 18 define themselves as "regular" drinkers who have had at least 12 drinks in the past year. That's nothing compared to countries like South Korea, Russia and the Philippines, which have the biggest average alcohol consumption in the world.
Considering the fact that American drinking is not completely out of hand — the U.S. Department of Health's national target for per capita alcohol consumption is 2.1 gallons, a doable goal — New Hampshire's high average particularly sticks out.
An ongoing problem: According to New Hampshire's state health department, "A statistically significantly higher proportion of New Hampshire residents in all age groups (64%) reported using alcohol in the past month compared with the nation overall (52%)," and "among 18–25 year olds in 2008-2009, New Hampshire had the highest rate of past month alcohol use of any state (75%)."
But alcohol is not the only problem that New Hampshire has — the state generally struggles with drug issues, and its youth substance abuse rates are higher than the national or regional averages:
Image Credit: New Hampshire Higher Education Alcohol and Other Drug Committee
And New Hampshire's drug problem is in line with what's happening with its neighbor: Vermont is going through a heroin crisis and opiates have become the drug of choice throughout the Northeast. It's also important to keep in mind that a popular practice is mixing heroin with alcohol — a deadly combination.
There are, of course, other factors to consider: New Hampshire gets a lot of skiing visitors and it happens to be one of very few states that do not tax wine and liquor. According to the state figures, "nearly half of New Hampshire's booze is sold to out-of-state customers," contributing to the state's high alcohol purchase.
Still, New Hampshire's ongoing problem with alcohol and other drugs is very real. While visitors from other states might be ringing up the receipts, much of the consumption stays in-state, contributing to a dangerous trend — especially among young people.