New Research Reveals What Porn Actually Does to Your Brain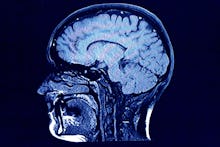 The news: A study published in the journal JAMA Psychiatry has linked high pornography usage to lower volume and activity in the regions of the brain linked to rewards and motivation. It's the first to provide a solid link between consumption of dirty movies to reductions in brain size and activity in response to sexual stimuli.
Scientists gathered 64 healthy men between the ages of 21 and 45 years and asked them questions about their pornography consumption. Then they imaged their brains.
"We found that the volume of the so-called striatum, a brain region that has been associated with reward processing and motivated behavior was smaller the more pornography consumption the participants reported," lead researcher Simone Kühn, who works with the Max Planck Institute for Human Development in Berlin, told Reuters.
"Moreover we found that another brain region, that is also part of the striatum that is active when people see sexual stimuli, shows less activation the more pornography participants consumed."
However, the results are not enough to conclusively demonstrate that pornography is bad for you. It's also possible that lazy slobs just watch more pornography, which comes with plenty of anecdotal evidence. Kühn says that "Unfortunately we cannot answer this question based on the results of the present study."
The background: The psychological community currently hasn't decided whether compulsive pornography use can qualify as an addiction. A recent study by researcher Joshua Grubbs of Case Western Reserve University in Ohio found that people who identify as pornography addicts tend to be highly religious, and sometimes adopt the label after only having viewed it a few times. Well over half the 1,200 books on porn addiction on Amazon, for example, were listed in the religious/spiritual section, and many of those were Christian testimonials about the hazards of XXX. Grubbs found that "the amount of [porn] viewing did not impact the perception of addiction, but strong morals did."
Extensive research on the psychological effects of pornography remains unclear. According to clinical psychologist Dr. David Ley, fewer than two out of five research articles on high-frequency sexual behavior call compulsive pornography use an addiction and just 27% had any data.
"The theory and research behind 'pornography addiction' is hindered by poor experimental designs, limited methodological rigor, and lack of model specification," Ley wrote in Current Sexual Health Reports. "Since a large, lucrative industry has promised treatments for pornography addiction despite this poor evidence, scientific psychologists are called to declare the emperor (treatment industry) has no clothes (supporting evidence)."
Well-known sex therapist Dr. Marty Klein argues there's no reason to categorize porn use as an addiction, saying that "using porn does NOT cause brain damage, erectile dysfunction, or loss of sexual interest in one's mate." He elaborates:
When a lot of people who label themselves as sex addicts or porn addicts say, "I'm out of control," what they're really mean is "You know, it would be really uncomfortable to make different decisions about sex than the ones that I'm making. When I'm lonely it would be really uncomfortable to not look at porn."
Much of the anti-porn industry is either directly influenced by or makes much of its money from the religious right. In Utah, billboards on I-15 denounce the plague of pornography with signs that say "Real Men Don't Use Porn." Mormon leaders tell churchgoers that porn use is an addiction and urge them to seek treatment. Utah Psychiatric Association president Anne Lin warns that cultural influence invariably play a role in how porn use is pathologized or treated. She says it's "hard for me to recommend any level of treatment [for behavior] that may not be a disorder and possibly at some level it might be even kind of normal."
Other research has linked pornography consumption to reward centers in the brain. Neurologist Donald L. Hilton argues that "In other words, cocaine and methamphetamine can cause changes in the way the brain functions, in the way the brain behaves, works. But what about pathological gambling, what about overeating, what about sexual addictions? Can those behaviors also cause actual changes in brain chemistry, in brain function, in the size of the brain itself? The answer is overwhelmingly yes."
Why you should care: The newest study lends a little more weight to the pro-addiction side of the psychological controversy. But like the authors say, it's impossible to tell from these results whether heavy porn use damages or changes the brain.
Further research is needed to identify whether porn is actually psychologically harmful or just presents a major social stigma. But while you can expect to see this study being tossed around by anti-porn crusaders as evidence that porn really is the Devil's work, be wary that psychologists and neurologists are still debating whether or not casual pornography use is actually an addiction in the same sense that compulsive cocaine and heroin use is.