What This Student Was Forced to Do In Class Shows Beauty Standards Have Gone Too Far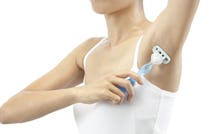 An Australian mother is outraged after a teacher shaved her 14-year-old daughter's armpits without her permission in front of other girls in a classroom. The teacher has defended her actions, calling them just "part of the curriculum" and reportedly saying that the girl would get picked on if she didn't do it.
Melissa Woods told radio station 3AW that her daughter, Taylah, was "extremely upset" by the incident. The teen, who has the condition microcephaly as well as developmental delays and ADHD, is enrolled in a special life skills program at a school in Victoria, Australia. Learning how to shave is in fact included as one of the components of the independent living curriculum, though school principal Libby Hosking told the Sydney Morning Herald that shaving is not required, but rather "just an option." Hosking also claims that the school got consent, though Woods asserts that she did not grant the school permission and that her daughter had previously expressed that she did not want to shave.
"She's seen me do it and she's told me before this happened that 'I don't want to do it,'" Woods told 3AW. She also said that the incident was "invading her [daughter's] rights as a person to decide whether or not she wants to get it done or not."
The school apologized for the lack of permission slip, but not for the shaving itself.
Here we go again.
Whether it's being forbidden from wearing leggings because they distract male classmates, having yearbook portraits photoshopped to show less skin, or now being involuntarily shaven before classmates, girls cannot catch a break when it comes to having control over their own bodies. In teaching girls that their natural bodies are shameful, embarrassing and in need of regulation, these schools are sending some spectacularly disempowering messages.
The saddest part of this whole fiasco is that Taylah's teacher, unfortunately, had a point — she very well may have been picked on for refusing to comply with current beauty standards. While that doesn't excuse the teacher's behavior, it highlights how restrictive our societal perceptions of beauty have become. (And, no, this was not done for hygienic reasons; if it had been, then it would have made sense to shave the boys, too.)
Women have been removing their body hair for thousands of years, but sleeker underarms became a widespread beauty standard only in the last hundred or so. Gilette is considered largely responsible for kicking off the hair removal revolution with its first razor marketed towards women in 1915: the Milady Decolleté. The rise of sleeveless dresses bolstered the trend, and more and more companies began marketing the concept of hairlessness as beauty to women.
As with all trends, societal tolerance of visible armpit hair seems to come in waves. Fifteen years ago, Julia Roberts made tabloid headlines for proudly showing off her own natural underarm at the Notting Hill premiere.
Image Credit: Getty
More recently, Madonna posted a photo of her stubbly self to Instagram with the caption, "Long hair, don't care."
Still, it's clear that by and large, savvy marketing by hair removal companies has entrenched the notion that visible body hair on women should be a source of cultural discomfort. That's why it's important to remember that the need to shave is entirely arbitrary, and, more importantly, that women have a choice — a real choice — when it comes to anything that involves their bodies.
Musician/blossoming underarm activist Amanda Palmer perfectly sums up what's this disturbing incident in a manifesto on her Facebook page:
"the only thing to do upon seeing a story this weird is to continue to push the idea out into the world, where it may be seen by girls everywhere who are being force-fed the opposite message.
hey girl...you do have a choice.
and the choice should not be a bullshit-lip-service choice — one that every woman claims to have but doesn't actually feel deep down because they're truly afraid of raised eyebrows if they lift their arms up in a sleeveless dress.
it should be a real, actual choice.
I hope we get to point in my lifetime where people give no actual fuck.
we'll get there someday."