One of the World's Biggest Movie Markets Is Not Where You Would Expect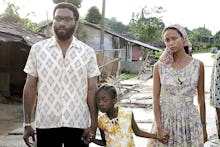 If you were asked to name a movie about Africa off the top of your head, odds are pretty good it would be one about South Africa: Invictus or Cry Freedom or even District 9. South Africa's struggle with apartheid is great fodder for cinematic drama, and its large Caucasian population spells good roles for our predominantly white movie stars.
The rest of Africa remains mostly absent in Hollywood films. When American movies do take us to that mysterious continent, it is almost always through the eyes of a Westerner (Out of Africa) or via an offensive African stereotype (The Gods Must be Crazy).
All that could change soon thanks to the rise of Nollywood. The Nigerian film industry, which has been steadily growing for the last two decades, recently released a star-studded film that pushes Nollywood to the next level of industry success and recognition.
Half of a Yellow Sun, a Nigerian-British film based on the novel by Chimamanda Ngozi Adichie, tells a story about Nigeria's civil war in the late 1960s. It is not the first Nigerian film to play in American theaters — Dr. Bello, starring Isaiah Washington, debuted in Manhattan last year — but it is the most prestigious. It stars Oscar nominee Chiwetel Ejiofor (12 Years a Slave) and Thandie Newton (Crash) and is Nigeria's most expensive production to date, with a budget of roughly $10 million, a stark contrast to Nollywood's usual price tag of $40,000.
Half of a Yellow Sun may be the first Nigerian film most Americans have heard of, but it won't be the last.
"The future of Nigerian film is very rosy," director Biyi Bandele told ABC News. "In the next decade, the world is going to be hearing a lot from Nigerian filmmakers, young filmmakers who grew up within the Nollywood tradition and then went to film schools. I'm really excited about the prospect of Nigerian cinema in the next decade, thanks to Nollywood."
The truth is, Nigeria now produces approximately 1,000 films annually — many of them straight to video — almost twice as many as Hollywood (but still lagging behind India). The film industry in Nigeria is now the second-largest employer in the country, generating nearly $600 million annually, a feat even more impressive considering the industry is only about 20 years old.
Image Credit: AP
The Nigerian industry does things a little differently from Hollywood, of course. The average Nigerian film costs between $25,000 and $70,000, while an average Hollywood movie runs at $65 million. Nigerian films are produced very quickly (within a month), and most go straight to DVD. Because of this scaled-down production, the actors get paid a fraction of what American actors make. Even the most popular actors can be paid as little as $1,000 per film.
Still, this rapid-fire production has allowed the industry to make more of its product and the demand hasn't dropped. Globalization may soon bring even more of these Nigerian films to American theaters.
While the burgeoning film industry has done much to improve the economy, the best may be yet to come. The World Bank recently began working with the Nigerian government to create a Growth and Employment in States project that would support the entertainment industry (particularly in helping them deal with a serious piracy problem) and potentially create a million new jobs. That means bigger and better productions, and more films like Half of a Yellow Sun reaching Western shores.
Image Credit: kokay Africa
Nigeria is also under a very different kind of spotlight right now. The abduction of 276 young girls by terrorist group Boko Haram has incensed the global audience, and with our interest in Nigeria piqued, films coming out of the country could generate more attention leading to richer cultural understanding. 
An uptick in Nigerian films would be great for the country's economy but also serves an even loftier purpose: generating empathy. Films are a way for a culture to communicate its history and values to the world, and movies like Half of a Yellow Sun, which covers a defining era in Nigeria' s history, will help viewers understand today's Nigeria a little better.
Africa remains a mysterious continent to many Westerners who only see it filtered through the narrow Hollywood system. A thriving African film industry will bring much-needed capital and also create new lines of communication between Africa and the rest of the world. A rising Nollywood will help make the vast space between us a little bit smaller.