The 'Star Wars Episode VII' Cast Just Landed a Major New Addition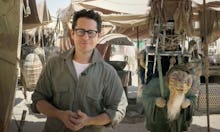 The news: The Force just got a little bit stronger with this one:
Image Credit: AP
After months of speculation surrounding her next career move, Entertainment Weekly reports that Lupita Nyong'o has officially been cast in the upcoming Star Wars film.
Joining her is Gwendoline Christie, best known for playing Brienne of Tarth on HBO's Game of Thrones.
Image Credit: AP
These developments come after a previous casting announcement was met with criticism for its overwhelming whiteness and male-ness.
First Star Wars Episode VII Cast Photo/Image Credit: Entertainment Weekly
The background: While both actors are exciting additions to one of the most anticipated releases in memory, Nyong'o's casting is especially significant.
After winning a Best Supporting Actress Oscar for her shattering debut role in 12 Years a Slave, the 31-year-old "Mexi-Kenyan" was heralded as a new kind of Hollywood star — a young black woman whose outspokenness about race, beauty and self-esteem seemed poised to supplement a prosperous film career.
Nyongo's rapid ascent felt unprecedented, and almost too good to be true. Viewers who've bemoaned the erasure of women of color's experiences from Hollywood film, especially those of dark-skinned black women, hailed her success as important and validating on many fronts.
But: Expectations were tempered when the Hollywood Reporter interviewed various industry insiders and encountered lukewarm projections around Nyong'o's career prospects.
"I don't think she has an audience — not yet," one anonymous exec said. "And there are so few roles for women of color; those roles are just not being written."
Another insider suggested that Nyong'o's career "may require some forward-looking director to push for her."
At the time, it was rumored that the actor was meeting with Star Wars Episode VII director J.J. Abrams to discuss a role in his film. However, concrete developments were slow to come, and hope seemed all but dashed when the initial round of casting was announced and Nyong'o's name was conspicuously absent.
Fortunately, these concerns can be laid to rest for now. While it remains unclear how Nyong'o and Christie will be utilized, their involvement alone is encouraging to anyone hoping for a more broadly representative cast.
December 2015 can't arrive soon enough.