The 4 Biggest Reveals From Apple's Much-Anticipated Developer Conference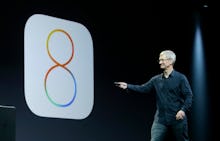 Apple loyalists, here's what's coming your way: Monday marked Apple's now-famous Worldwide Developer Conference, where the tech giant reveals its newest software and hardware. The two biggest themes this year were continuity and evolution.
There were over 6,000 developers in attendance at San Francisco's Moscone Center. At one point, Senior Vice President of Software Engineering Craig Federighi called Dr. Dre on speakerphone to welcome him as a new Apple employee. Yeah it was that kind of event.
That said, here's a rundown of the coolest reveals from WWDC:
1. OS X Yosemite: Apple's newly named operating system. But just because it has a new name does not mean that there are a ton of new features in it. Apple has focused on refinement and evolution of the old system.
OS X Yosemite will arrive in the fall and will be free. If you're interested in it sooner than that, there is a public beta program for non-developers that will arrive in the summer.
Yosemite has a new interface that features bubbly icons and lots of cards. With a focus on clarity, utility and customization, Apple has refined their window construction with translucent capabilities so the "you" shines through on your screen. The UI has reliable and quick-syncing capacities through Maildrop that will allow you to send an encrypted attachment securely in emails up to 5 GB in size.
The new Markup feature will allow you to scribble on images and PDFs whether they're in an email or while you're looking at a document. The Handoff feature will allow users to seamlessly work on your Mac, iPhone and iPad so you can pick up from where you left off on any of your Apple devices. It is called "proximity awareness."
And now hotspots will be easier to use than ever. The iPhone can relay SMS between devices, so even your text messages with Android users will show up on Apple devices other than your iPhone. Caller ID will be available on your Mac. You can call someone from your phone or accept an incoming call on your Mac's speaker.
2. iOS 8: Developer features, called "in user features," are the new big thing. You can now do actions within the app store, where the company is investing a ton of money and time. For example, TestFlight will allow developers to invite users to test their apps in beta. Apple will have a new programming language called Swift, which is supposed to be fast, modern, safe and interactive.
Many upgrades were made to the utility of the old iOS 7. In your mailbox on your iPad, you can swipe the email you're composing down to check more things in your inbox. Controls and gestures have been expanded. You can flag something or share something much easier than before.
Quicktype is a new feature that Federighi defined as "predictive suggestion typing." It works on a learning curve based on how you type. So now the fumbling auto-correct will be replaced by Quicktype as it gives you personalized suggestions as you type.
Tap to Talk will allow you to record what you are saying in a message and send the recorded audio via SMS. And you can play videos inline within a message thread. The videos or audio can have an expiration time, so video messages and audio can be discarded and not to pile up in a thread.
Siri will be more responsive than ever. Enlisting Siri's assistance will require a mere, "Hey Siri." And Shazam is now completely integrated into Siri's capabilities, so just raising the iPhone to a song will deliver the artist's name and song title.
3. Healthkit: This app will monitor all of your health care. Things like your heart rate or calories burned or tracking your sleeping habits will be integrated into Healthkit's operations. But using third-party systems like Nike's fitness app will also be available. Attaining personalized fitness goals will be much easier.
Apple is also working with the Mayo Clinic to provide wellness plans for patients as well as integrating a direct connection between doctors and patients. Patient stats can be documented and sent to a physician.
4. Homekit: Now the iPhone can lock your door or open your garage. It pairs with your doors, thermostats and lights, so now everything can be managed and checked from the inhouse app.
***
"This is something only Apple can do," Tim Cook said as he finished up the keynote. The innovation was certainly emphasized in developer capabilities. The new iOS X and other features will be cool and add a lot to the Apple platform. But with no new hardware introduced, Apple's reign as the champion of tech is certainly in question.