New Research Reveals Why Apple's Global Reign Is Coming to an End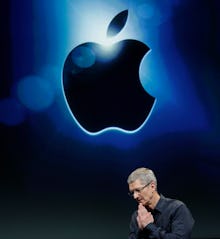 The news: Google is reigning supreme as the world's most valuable brand. Research company Millward Brown released their annual list, the 2014 BrandZ Top 100 Most Valuable Global Brand on Wednesday, and it's bad news for iPhone enthusiasts.
For the first time in three years, Apple lost the top spot, as the brand faces an overall decline. Apple is valued at $147.9 billion, down 20% from last year, after a lackluster market performance with new and current devices.
Google, on the other hand, grew 40% over the past year and is valued at $158.8 billion, seeing its brand increase as it diversified into other innovative tech and business ventures.
How Google is winning: The search giant is banking more time and money in the area of innovation with smart investments in Google Glass, self-driving cars, medicine and online ads.
Meanwhile, Apple has remained stagnant. Oscar Yuan, vice president at Millward Brown Optimor, explained to Forbes that Apple is suffering because their "innovations have been more evolutionary than revolutionary."
Yuan points to GoogleX, the company's special-ops R&D department, which is going to make WiFi globally available by tying satellites to balloons that will hover over Earth. This type of product will "enormous things for the brand — it's seen as a making-dreams-come-true-type company, and that certainly helps their brand value," Yuan said.
Apple's losing streak: In November, the Cupertino, Calif.-based company was defeated by Google in the mobile market. Google's Android operating system dominated with 81% of the market share. The smartphone market comprises an integral part of Apple's brand and in the global retail market in general. 
A customer service survey in January found that Apple ranked below Samsung, Sony, Microsoft and Amazon. Even though Apple did see improvement by two points from the year before, all of its competitors saw improvements in the five-point rage. 
Apple shocked investors with a poor quarterly earnings report in late January. While the numbers, which included the holiday season, illustrated Apple's notorious star quality with a record profit over a three-month period, they highlighted that the company is not reeling in new clients; their profits are coming from upgrades of loyal customers. The effect of the report was worrisome when Apple's stock dove by 8% as a consequence. 
Honorable mentions: Still, second best is a lot better than the other 98 brands included on the list. 
The tech sector held all four of the top spots with IBM and Microsoft ranking third and fourth, respectively. Fast-food empire McDonald's — valued at $85.7 billion — was the only non-tech company to appear in the top five. Facebook, at No. 21, grew by 68% with a value worth $35 billion. Twitter and LinkedIn both surfaced on the list for the first time, ranked 71 and 78, respectively. 
Whether it be through innovative new products, operating systems or customer service, Apple is going to need to pump it up — it has some serious competition right now.