Thai Protests Against the Military Coup Look Like Something Out of 'The Hunger Games'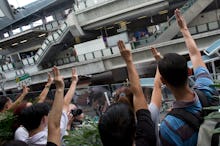 The news: Life imitates art again as demonstrators against Thailand's military government have apparently adopted The Hunger Games' three-finger salute as a sign of rebellion. It's the same salute that protesters in The Hunger Games use as a silent challenge to the miserable government of Panem:
Why? The Thai military seized power last month, suspending the constitution while declaring the country's democracy too dysfunctional and unstable to survive. Martial law replaced civil law, and troops dispersed protesters.
In a televised statement, army chief Prayuth Chan-ocha said that he assumed power because "of the violence in Bangkok and many parts of the country that resulted in loss of innocent lives and property, [which] was likely to escalate. We ask the public not to panic and to carry on their lives normally."
Several months of anti-government protests around the country culminated in 28 deaths and hundreds wounded. Prayuth says that democracy will not be restored for at least a year and threatened that protests could alter that timeline, warning that families could also face charges for their relatives' participation. Political gatherings of five or more people have been banned. In addition to the repression and intimidation the military is using to impose its own version of order, critics have been quick to note that the military and its backers have yet to figure out a solution to Thailand's decades-long internal struggles.
Anti-military protesters have co-ordinated their movements on social media, recently gathering at the Terminal 21 shopping mall. Hundreds of police and soldiers turned out on Saturday to disperse protests before they began. One woman was dragged into a taxi by undercover police officers after giving the three-fingered salute.
As Quartz notes, it's not necessarily surprising that Thai people have adopted the The Hunger Games gesture given the country's huge consumption of foreign media and pop culture. The protesters claim that the three fingers stand for "liberty, brotherhood and equality," the slogan of the French Revolution. 
Images of the protest were widely shared on Thai social media, quickly circumventing a military-imposed ban on criticism of the coup. And now that they've hit the West, the media has begun developing a small surge of interest in Thailand's situation. 
But not everyone's a fan: And not just the military. Some people think this business of opposing autocratic regimes with pop-culture imagery is silly and vacuous. Guardian's Jonathan Jones writes, "Do The Hunger Games or V for Vendetta really offer useful images, or does this reliance on them reveal a tragic intellectual vacuum? ... The whole thing is rooted in teenagers' sensibilities and its images of politics are there to drive up dramatic tension, and sell more DVDs. Job done."
To which one top-ranked commenter responded, "All this article made me think? 'What a d*ck.'"
For a Thai perspective on the coup, a young Thai person wrote about their experience for PolicyMic:
"The coup enforces this silence by displaying guns and tanks and by silencing dissent. Things are calm in the days after the coup, but not because of the military's ability to calm social unrest. The silence is the byproduct of a paralyzing fear. A fear that takes away your courage and cripples you from standing up for what you believe in. But also, a fear of the sort of uncertainty that comes with social unrest."