A Popular Musician Is the Unlikely Savior of One of Dance's Most Famous Companies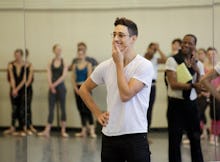 For centuries, classically-minded choreographers have had the strange distinction of collaborating with dead musicians. A legend like George Balanchine, the founder of the New York City Ballet, knew Stravinsky, but for a long time, ballet has been distant from its older source material. That's changing. And it's changing because it has to.
In 2008, the Scottish Ballet put on a dance to Radiohead music called Ride the Beast. In 2010, San Francisco's Smuin Ballet created a piece based on the Shins' 2001 debut album Oh, Inverted World. Chroma, an award-winning ballet featuring an orchestrated version of the White Stripes' music, premiered in 2006 at London's Royal Opera House with the Royal Ballet. Earlier this year, Stephen Petronio celebrated his company's 30th anniversary by releasing Locomotor, a piece scored by Michael Volpe (aka Clams Casino). Suddenly, the classical dance world has gravitated towards modern music.
In turn, pop music has embraced dance. In the past few years there has been a massive influx of ballet dancers used in music videos, from artists ranging from MONEY ("Hold Me Forever") to rapper Aesop Rock ("Cycles to Gehenna") to Kanye West ("Runaway") to Florence and the Machine ("Spectrum") to trained ballerina Kiesza's breakout "Hideaway," which succeeded because of her disciplined, exacting modern dance. That video brought an unknown artist to almost 30 million viewers. That's 10 million more times than it's been streamed on Spotify.
The two art forms needed each other, it turns out. Over the past decade, classical dance has fallen out of favor, and the audience — especially the young audience — dwindled severely. In 2012, the National Endowment for the Arts found that 2.7% of all American adults attended a ballet. That number was shrinking.
It affected the most revered institutions in dance most — the ones that had held onto their rich heritage. The once immensely relevant New York City Ballet (NYCB) was founded in 1948 by George Balanchine, and his name hung over classical ballet like a dancer above a pointed toe. It was one of the most celebrated, classic and bold institutions in dance.
In 2002, though, 19 years after Balanchine's death, the NYCB and classical dance as a whole were in dire straits. Another venerable New York institution gave an ominous assessment. "Now the unthinkable has happened: At the City Ballet, Balanchine ballets have become boring, pompous and passé," the New York Times wrote. In her history of ballet, Jennifer Homans, a dancer turned critic, wrote that the "occasional glimmer of a good performance or a fine dancer is not a ray of future hope but the last glow of a dying ember." 
NYCB principal dancer Robert Fairchild gave a bleaker assessment of dance as a whole in an interview with PolicyMic: "The arts need to cross — they need to work together, otherwise they start to die out. I mean music will never die out, but ballet is a dying art form, sadly."
That's when the pop revolution happened.
In 2001, far from the ballet world, indie artist (and self-proclaimed hater of ballet) Sufjan Stevens released Enjoy Your Rabbit, an impenetrable electronic album inspired by the Chinese zodiac. It brought him approximately no new fans. Four years later, his massively successful Illinois brought him unprecedented fame. That was just about when a 26-year-old dancer and choreographer named Justin Peck stepped into Balanchine's shoes at the New York City Ballet and tried to save the dance giant.
Peck was looking for inspiration. He found it when he heard a string quartet arrangement of Stevens' bizarre old record. In 2012, he, with the help of the once-reluctant Stevens, premiered Year of the Rabbit.
It became a critically acclaimed hit. The dancers, surprisingly, loved it too. "I think the process of working with Sufjan really excites me even more so than just working on a ballet to a piece of music written by a dead composer," Peck said. They decided to try again. Last month, they debuted their second collaboration, Everywhere We Go. It's become an instant classic and has crystallized the modern music dance trend now saving dance.
That's because the music has opened up dance to new, complex and powerful themes. Peck is particularly progressive in his treatment of identity politics: He pairs lead dancer Fairchild with taller partners and features same-sex dance support, a move usually reserved for a male-female pairing.
The New York Times described Everywhere as "rich in incident; its moods shift, briskly, among comic, sever, effusive and poignant." Fairchild had a more direct assessment: "I got the chills as I came off stage, because in the finale the music is just pumping and it just feels like a rock concert."
The pieces were covered in trend-setting music websites like Pitchfork and in dance-centric publications, like Pointe Magazine. It was a hit: Twice, a giant in the ballet world found success with one of modern indie rock's greatest artists. And slowly, the classic dance world followed its most unlikely savior, modern music.
In our time, we seek disruption. But sometimes we disrupt the wrong things — we leave musicians with $0.007 royalties on a streaming song and we leave dancers alone on a dimming stage. Peck and Stevens' collaborations, then, represent more than just one dance company's success. They're a model for how real art can survive today: not alone, but together; not in the past, but in the future. Because dance isn't dead — it's being reborn.
Correction June 12, 2014 - The original version of this article suggested that Ride the Beast was choreographed by The Scottish Ballet. It was commissioned by them from Stephen Petronio. Additionally, Locomotor was part of Stephen Petronio Company's 30th anniversary, not their 20th.