11 Pandora Stations That Are Essential for People Who Love Hip-Hop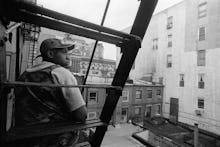 It's hard to believe that hip-hop celebrated its 40th birthday just last year. Most date its birth to a seminal party that DJ Kool Herc threw in the South Bronx — the day he premiered the legendary break beat that characterizes the genre. His expert DJing quickly attracted luminaries such as Grandmaster Flash and Afrika Bambaataa, who went on to achieve fame, quickly catapulting hip-hop into the commercial mainstream and leaving the genre to be forever changed.
In 40 years, hip-hop has become one of the most prolific and dense genres in music. It's history and sub-genres are so complex that it's difficult legitimately to call yourself a hip-hop fan. But it is perhaps our most culturally relevant genre, and almost everyone wants to be on the inside.
Like Kool Herc's house party, hip-hop has always been a communal affair, and it's evolved through collaborations and the free flow of sounds and samples. Here are 11 Pandora stations of key related artists, sounds and ideas that will guide you along the path from the musical stylings of b-boys in the 1970s to Drake and Nicki Minaj. They will give any patient listener the key to understanding hip-hop.
1. Rapper's Delight Radio
The Sugarhill Gang's 1979 hit "Rapper's Delight" was the first rap single to go diamond, and enjoys a top spot on most lists of the best hip-hop songs ever. The station plays similarly feel-good classics like Biz Markie's "Just a Friend," with its deep thrumming bass notes and well-known samples. As "Rapper's Delight" was single-take and the product of a freestyle, many of the related songs feature simple rhymes and beats that demonstrate hip-hop's freestyle origin.
2. Public Enemy Radio, A Tribe Called Quest and Bambaataa Radio
Although many today think that hip-hop is all about gold teeth and Grey Goose, it's arguably more famous for its extreme political consciousness. This station is a powerful way to trace that social activism to its roots. The breakdancing and graffiti that complemented the music began as a counterculture to the gang violence and poverty that defined the urban areas it came from. Hip-hop was, originally, a form of uplift.
Artists like Public Enemy rapped about racism that the black community faced, expressing anger and discontent at white supremacy. Other artists like A Tribe Called Quest and Bambaataa formed the Universal Zulu Nation, which preached youth empowerment, anti-oppression and unity. Here are the foundations of hip-hop activism.
3. Classic Hip Hop Radio
Classic Hip Hop is all about the hits, from "California Love" to "Juicy," but it also manages to document the biggest feud in hip-hop history: East Coast versus West Coast. Following overtly political anthems, gangsta rap emerged in the '90s, featuring more profanity and tales of life on the streets. The station streams Biggie and 2Pac, but also focuses on their crews, from P. Diddy to Snoop Dogg, in painting a complete portrait of the two warring scenes that would come to dominate hip-hop.
4. Outkast Radio
There's a reason the Dirty South is so influential in the hip-hop scene, and Outkast is a big part of that. Some of the best and most innovative acts have originated there, usually bringing a quirkier flavor than hard-edged East Coast rap and a similar weed-celebrating culture to West Coast rap. Their lyrics are narrative quicksilver, switching seamlessly from wild and hilarious to profound and surreal.
Looking at Southern rap through Outkast, you can see especially clearly the influence of the region's funk history on hip-hop, and southern hip-hop's quirky influence on rap.
5. Nas Radio
Widely regarded as one of the best hip-hop albums of all time, Nas' Illmatic is an indispensable part of a rap education and a powerful way into socially conscious New York rap. He documents the stark reality of ghetto life but brings in a spark of hope, all with an incredible flow and passion. As Nas' father was a jazz artist, he incorporates diverse musical elements, even rapping with reggae artist Damian Marley at one point. This station will undoubtedly inspire you.
6. Lauryn Hill Radio
Unfortunately, hip-hop is not commonly known for equality between the sexes. Being a female MC in the thoroughly misogynistic game is not easy, but those who make it do so with some of the fiercest lyricism and no shortage of swagger.
Pandora, however, has no "Female MCs" playlist, so it's up to you to build your own. Depending on what generation you're most interested in, start with a rap giant like Lil' Kim, MC Lyte, Lauryn Hill or more recently Missy Elliott, Nicki Minaj and new breakout artists like Azealia Banks and Angel Haze, and just keep giving the "thumbs up" to female artists until Pandora gets the memo!
7. Mos Def Radio
A week ago, the Internet went wild with the rumor that Mos Def had been banned from returning to the United States. That's because it was an especially offensive thought — few rappers did more than Mos Def and Black Star to found the new wave of socially conscious hip-hop now dominating the genre through artists like Kendrick Lamar and Drake (who have little else in common). He has been one of our most forceful and necessary critical voices for awhile now.
Conscious hip-hop as we know it now emerged in the late '90s and 2000s with a new wave of rappers like Mos Def, Common and Talib Kweli. These artists are part of the alternative movement, often not getting much radio play but receiving critical acclaim and cult followings. The songs in this playlist are a map of compassionate solutions to modern American political ills. The songs are smooth and thought-provoking, and when Mos and Talib rap together under Black Star, the results are magical.
8. Kanye West and Jay Z Radio
Two of the biggest superstars in rap music have shaped modern mainstream rap together. Their respective careers are staggering enough; their partnership is almost indescribable but through this playlist, you can find the root of the modern incarnation of the Soul Sound.
This is triumphant and fun music, focused on collaboration rather than rivalry and yielding some of the most joyful popular rap currently on the airwaves. Almost two decades after Kanye got his start making beats for some of Jay's most popular tracks, the two remain close despite some tension around Ye's marriage to Kim Kardashian. To watch the way these two paved the way for future artists, consider adding their proteges Lupe Fiasco or J. Cole to the station.
9. Das Racist Radio
The alternative hip-hop scene is alive and well among the millennial generation and especially visible on this playlist. Das Racist is a three-person rap outfit that met at Wesleyan University, and it shows — their "hipster rap" lyrics are filled with academic references and obscure pop culture allusions. The members are Indian and Afro-Cuban, and their lyrics speak openly of racism while deftly weaving in humor. "Sick of arguing with white dudes on the Internet," spits Kool AD on "You Oughta Know." This is a great entry into the best humorous and alternative rap out there.
10. Madlib, J Dilla and Flying Lotus Radio
Hip-hop led to the rise of trip-hop, trance and even the very popular dubstep. Madlib is one of hip-hop's most prolific producers, armed with an incredible arsenal of samples, mixing R&B with rap, along with more electronic, experimental sounds.
Add in J Dilla, another prominent producer known for his percussive sounds, as well as MF Doom, the creative, masked MC who frequently collaborates with Madlib, and you'll see a world of innovative production unfurl before you on this station.
11. Rap 2014 Radio
Lastly, keep up on what's current in hip-hop with Pandora's carefully selected mix of what's popular right now. Artists like Future, Nicki Minaj and Rich Homie Quan dominate. And although the songs sound unimaginably different from the genre's origins 40 years ago, it's more important now than ever to understand where this music comes from.