There's a Scientific Reason Why Dance Music Always Sounds Better on Ecstasy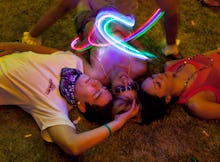 On Monday evening, famed pharmacologist and chemist Alexander "Sasha" Shulgin died of liver cancer at the age of 88. He had a long, prolific and controversial research career, but he's remembered most for a discovery he made in a greenhouse in his backyard in 1976: The purest form of ecstasy.
It was the version of ecstasy that broke into the mainstream. Since then, Shulgin has been known as the "Godfather of Ecstasy." He estimated that he tripped more than 4,000 times — more than once a week for over 50 years.
But if Shulgin is the godfather of ecstasy, then he's the uncle of EDM. It's a strange tale, how one substance made its way from a backyard in California into the synapses of a generation dancing to an entirely new kind of music. But there's a very specific chemical reason ecstasy is perfectly suited to EDM, one that Shulgin uncovered well before Avicii was making approximately $50 million annually on concerts.
EDM and ecstasy actually evolved simultaneously. After reducing ecstasy to its purest form and introducing it to psychologists (who hoped it could treat PTSD) in the late '70s, Shulgin's rave reviews of getting high on the drug traveled all the way to Dallas, where the drug (known then as "Adam") began to gain popularity in the gay club scene. Austin DJ legend Kerry Jaggers was surprised at how quickly the use of the drug grew: "The first time I went to [a popular Dallas gay club]," he said in a 2000 interview, "everybody was on Ecstasy. Pure powder. Everywhere."
Shulgin wasn't surprised the drug caught on in the club scene. Around the same time, DJs were starting to use synthesizers to make their music more easily controlled in live settings. Paired with the corresponding MDMA culture and dance music culture in Europe, EDM took shape. As Consequence of Sound writer Derek Staples put it, "The new drug culture" is now at the "very roots of the EDM community." And there's a scientific reason why.
Many have expressed that the drug fosters intense feelings of "empathy and closeness." It loads the brain with serotonin and dopamine, increasing energy levels while giving the user a sense of euphoria and hightened sensory perception. When a group of people experiences that together, the drug actually creates spontaneous community feeling, even if it's just an illusion.
That combines with the music to focus a group of people on a common stimulus. The Atlantic cites media theorist Dr. Douglas Rushkoff, who explains in his book e: the incredibly strange history of ecstasy that "the music, lighting and ambiance [of a club] are all fine-tuned to elicit and augment altered states of consciousness. The rhythm of the music is precisely 120 beats per minute, the frequency of the fetal heart rate, and the same beat believed to be used by South American shamans to bring their tribes into a trance state." EDM and ecstasy combine to create a spiritual feeling of being together in rhythm — with each other and with the DJ.
That feeling of togetherness then leads people to lose their inhibitions, which is exactly what a lot of young people look for in dance music. "It seems that MDMA allows most people to accept other people — that is one of the reasons the drug is so successful at raves," said Shulgin in Julie Holland's The Godparents of MDMA: An Interview with Ann and Sasha Shulgin. "There is no paranoia about revealing anything about yourself. You do it openly and honestly and with recall."
Image Credit: Caesar Sebastian/Creative Commons Flickr
These factors, topped with the perception that MDMA is not addictive and is therefore not a hard drug, have helped its popularity increase exponentially over the past couple of years. The culture exists well outside any DJs' control, and though it's core to the classic EDM experience, it is destructive. 
Shulgin contributed a lot in his lifetime. EDM wouldn't be the same without him. But change is afoot — slowly but surely. DJs Kaskade, A-Trak, apl.de.ap, Steve Aoki, Z-Trip and Tommie Sunshine participated in a County of Los Angeles-sponsored PSA warning against the use of MDMA at concerts. That's because you don't need drugs to enjoy this music. It's because not every user will live to be 88.